Karami urges Tripoli residents to throw away their arms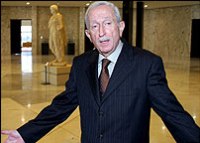 On the 26th anniversary of the assassination of former PM Rashid Karami, his brother former Lebanese Prime Minister Omar Karami held a press conference in which he condemned Tripoli's sectarian clashes, LBC reported on Saturday.
Rashid Karami was killed when a bomb exploded in his helicopter during a flight from Beirut to Tripoli on June 1, 1987.
Omar Karami urged Tripoli's residents "to throw away their weapons and spare Tripoli futile wars that serve only the Israeli enemy."
Tripoli has become increasingly volatile in recent months due to the civil war in neighbouring Syria, where the Sunni majority is leading a revolt against President Bashar al-Assad's regime.
Supporters of the Syrian regime and the Syrian revolution have clashed frequently, heightening fears that the war is spilling over into Lebanon.
Karami urged the Lebanese leaders to convene in a bid to ease down the sectarian tensions in the country.
Karami also noted that Lebanon is in dire need of a "salvation government" tasking to preserve the civil peace and to solidify the national unity.
Tammam Salam was named as Prime Minister-Designate on April 6 at the Baabda Palace after 124 deputies voted for his nomination as Prime Minister, but so far he has been unable to form a cabinet because the Hezbollah-led March 8 alliance is insisting of having a veto power in the cabinet.
Salam is trying to form a neutral cabinet of 24 minister with each of the 3 camps ( March 8, March 14 and centrists) receiving an equal share of 8 ministers.