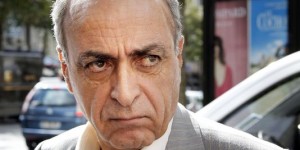 Police on Thursday detained a Franco-Lebanese businessman who is being probed in a high-profile political financing scandal over suspicions he was trying to flee France, a source close to the case said.
Ziad Takieddine, who is banned from leaving France as investigations into the so-called Karachi affair go on, allegedly paid 200,000 euros ($260,000) for a diplomatic passport from the Dominican Republic, the source said.
The businessman is embroiled in several scandals in France, some of which allegedly involve former President Nicolas Sarkozy and other high-profile politicians.
He has claimed he has proof Sarkozy received illicit funding from Libya's ex-dictator Moamer Kadhafi for his successful 2007 presidential campaign, and an official probe into the allegation has been opened.
Takieddine is also being investigated for suspected money laundering after he was detained with 1.5 million euros in cash on a private flight out of Libya in March 2011, French judicial sources said late last year.
And he has been charged with corruption in a case centred on commissions he allegedly received in 1994 arms deals that could have been used illegally in ex-prime minister Edouard Balladur's presidential campaign the next year.
The so-called Karachi affair has also embroiled Sarkozy, who was Balladur's campaign spokesman and budget minister at the time.
Dominique Penin, one of Takieddine's lawyers, refused to comment when contacted by AFP.
Expatica