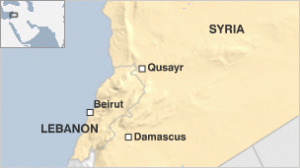 Syrian rebels under siege in a town near the Lebanese border issued a desperate appeal on Thursday for reinforcements and medical supplies as government troops and Lebanese  Hezbollah guerrillas pounded their defences.
High hopes the  rebels had of sweeping Assad from power have been ground down on the battlefield and could suffer a further major setback if they lose Qusair, which guards their supply route from Lebanon and hinders government efforts to maintain contact between the capital Damascus and a coastline that is the stronghold of Assad's Alawite minority.
Warning that the town, once home to some 30,000 people, could be wiped off the map and hundreds of wounded risked dying without help, the rebel fighters inside Qusair issued an appeal on social media for allies to come to break the siege.
"The town is surrounded and there's no way to bring in medical aid," Malek Ammar, an opposition activist in the town, told Reuters by an Internet link, saying about 100 of the 700 wounded needed oxygen.
"What we need them to do," he said of other rebel units, "is come to the outskirts of the city and attack the checkpoints so we can get routes in and out of the city."
In a statement, the rebel commanders warned of dire consequences if help fails to arrive for men who have been fighting house to house for over a week against a force armed with tanks and rocket-launchers and spearheaded by Lebanese fighters from Hezbollah, seasoned in wars against Israel:
"If all rebel fronts do not move to stop this crime being led by Hezbollah and Assad's traitorous army of dogs … we will soon be saying that there was once a city called Qusair."
Reuters
This error message is only visible to WordPress admins
Error: No connected account.
Please go to the Instagram Feed settings page to connect an account.