3,000-4,000 Hezbollah fighters in Syria, France revealed
France revealed on Wednesday its intelligence services believed 3-4,000 guerillas from Lebanon's Hezbollah militia fighting alongside President Bashar Assad's army in Syria's civil war.
"As far as Hezbollah militants present in the battlefield, the figures range from 3,000 to 10,000, our estimates are between 3,000 and 4,000," Foreign Minister Laurent Fabius told lawmakers.
The United Nations' human rights chief Navi Pillay said on Wednesday a dramatic increase in the role of Iran-backed Hezbollah militants backing Syrian government forces was inflaming regional tensions, without giving numbers.
Fabius pointed the finger at Iran for pushing Hezbollah into the Syrian conflict.
"When you have fighters that are really well armed that are prepared to die and they are several thousand that makes a difference," he said.
Fabius has dismissed any suggestion that Iran could be involved in resolving the Syrian crisis, because of its backing of Assad's government.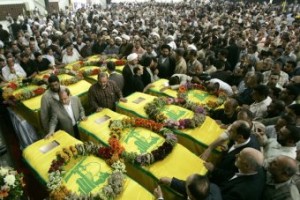 "There has been a change on the ground. The involvement of Hezbollah and the fact the Russians have delivered weapons has changed things," he said. "Even if many elements that are fighting are Syrian, they are being guided by Iranian officials."
France said on May 23 it hoped an initiative could be agreed by the end of June to put the armed wing of Hezbollah on the EU's list of terrorist organizations, on the grounds the group is importing Syria's war into Lebanon.
Paris has traditionally been cautious about backing steps to sanction Hezbollah, fearing it could destabilize Lebanon and put U.N. peacekeepers at risk, but in recent weeks has said it would consider all options.
Reuters
Photo: Lebanese protest in downtown Beirut against Hezbollah's involvement in Syrian civil war