Geagea slams cabinet decision on parliament election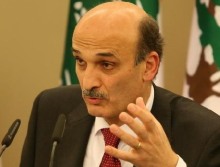 Lebanese Forces leader Samir Geagea slammed the decision of caretaker PM Nagib Mikati cabinet to approve the formation of a supervisory committee and funding for the upcoming parliamentary elections.
"This is an unconstitutional step and a charade," Geagea said in remarks published by An-Nahar newspaper on Tuesday.
"I am surprised at this meeting of the caretaker cabinet at a time when Lebanon is witnessing appalling events in Tripoli and Beirut's southern suburb."
The LF leader added that the most appropriate move is for the parliament to convene and vote on the proposed electoral laws to be followed by elections "after a short period of technical extension of the parliament's term."
Geagea's comments came after the caretaker cabinet on Monday set June 16 as the date for the elections and formed an electoral supervisory committee, amid a deadlock between country's rival political parties over a consensus electoral law.