UN chief is "deeply concerned" by Hezbollah's role in Syria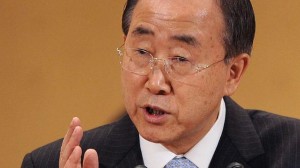 UN leader Ban Ki-moon said Sunday he is "deeply concerned" by Hezbollah's growing role in Syria's civil war and called for greater efforts to halt the spread of the conflict toward other countries.
In a statement released hours after two rockets hit the Hezbollah stronghold of southern Beirut, Ban called on all nations and groups to "cease supporting the violence inside Syria," said his spokesman Martin Nesirky.
The UN secretary general is "extremely concerned" about the intensifying conflict, in particular around the town of Qusayr, said Nesirky.
The military support of Hezbollah, a heavily-armed Lebanese Shiite group backed by Iran, has helped President Bashar al-Assad's forces gain the upper hand in the battle for control of Qusayr, close to the Lebanese border.
Hezbollah chief Hassan Nasrallah has vowed to help Assad to victory in the 26-month-old conflict which has now left more than 94,000 dead.
"The secretary general is deeply concerned by the acknowledged increased participation in the fighting in Syria by Hezbollah, as well as by the risk of spillover in Lebanon, which has witnessed growing tension over the past week," said Nesirky.
"All in the region should act responsibly and work towards lowering rhetoric and calming tensions in the region," he added.
Ban has spoken out against the arming of all sides in the Syria conflict by outside countries and groups, Nesirky reaffirmed.
"As preparations are ongoing for the international conference on Syria, the secretary general urges all countries, organizations and groups immediately to cease supporting the violence inside Syria and instead to use their influence to promote a political solution to Syria's tragedy."
Ban added that it was of "paramount importance" to avert "a dangerous spillover of the conflict across borders."
Lebanese leaders must keep a "strict adherence" to an accord they made to stay neutral in the war "and keep Lebanon safe from conflict," Nesirky said.
AFP