Syria's opposition calls on Hezbollah fighters to defect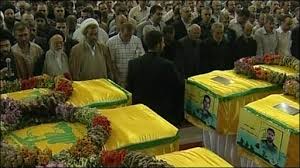 Syria's main opposition group called Sunday on Hezbollah fighters to defect, as members of the Lebanese militant movement led an assault on Qusair in central Syria and a day after its leader vowed victory.
Hezbollah, a key ally of Syrian President Bashar Assad's regime, "repeats Assad's grievous mistake of forcing his people to kill innocent Syrians, which will undoubtedly lead the honourable members of Hezbollah to defect and stand by the truth," said a statement from the Syrian National Coalition.
"The Syrian Coalition hopes for peace for the people of Lebanon and rejects Hezbollah's call to turn the Syrian revolution into a regional conflict," the opposition group added.
On Saturday, Hezbollah leader Hassan Nasrallah vowed "victory" in the battles raging in neighbouring Syria in a speech to mark the 13th anniversary of the Israeli withdrawal from southern Lebanon.
The Syrian opposition said Nasrallah "has used ideological, extremist, and fringe rhetoric in order to push followers of Hezbollah into a war based on deception, false legacies and lies, driving the group to death and destruction."
DS