Charbel defends Rifi's role in Tripoli, North Lebanon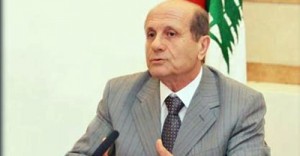 Interior Minister Marwan Charbel defended former Internal Security Forces chief General Ashraf Rifi's role in Tripoli and said that Rifi is working to calm down the situation in the city.

"Rifi is working to calm down the situation in Tripoli, contrary to the accusations against him that he was running battlefronts in the city," Charbel said in an interview with Al-Joumhouria newspaper.
Charbel also denied any involvement of the ISF or the Information Branch in the clashes. He also denied that the apparatus stood by the Bab al-Tabbaneh neighborhood against its rival Jabal Mohsen.
He also said that Rifi had the right to give his opinion on the situation in Tripoli, "because he is no longer [in office], he is retired."
"Rifi does not do anything against the law. I worked with him for a long period of time in the Interior Ministry and his goal is to achieve security and apply the law," Charbel noted.
Turning to the situation in Tripoli, the interior minister said that the battles in Tripoli would come to an end once the conflict in Syria is resolved.
"What is happening is beyond the power of the state, and we cannot [end] it," Charbel said,
"Everyone is involved in the clashes in Tripoli… and it has become clear that there will be no solution [because] if you want to know what is happening in Tripoli you need to know first what is happening in Syria," the interior minister added.
Fierce sectarian clashes erupted between the Alawite-populated neighborhood of Jabal Mohsen and neighboring Sunni areas on Sunday, leaving at least 20 people dead as of Friday morning.
The fighting in Tripoli erupted as Syrian regime troops backed by Hezbollah attempted to storm Al-Qusayr, a strategic rebel stronghold linking Damascus to the Mediterranean coast.
Jabal Mohsen residents have frequently clashed with locals from neighboring areas in the troubled northern city of Tripoli. These recurrent disputes triggered by sectarian differences also reflect a split in Lebanon's political scene in which the March 14 coalition back the revolt in Syria while the March 8 alliance, led by Hezbollah, supports the Damascus regime.
Meanwhile, Rifi said on Thursday said that the clashes that erupted on Sunday in Tripoli aimed to turn attention away from the Syrian regime and Hezbollah's attacks against Al-Qusayr.
"There are some [parties] who made a miscalculation on the ground in the town of Al-Qusayr, and they are trying to turn attention to Tripoli," Rifi told LBC television in an implicit reference to the military campaign waged by Syria and Hezbollah against the rebel-held Syrian town.
Now