Assad, Hezbollah forces trying to push rebels out of Qusair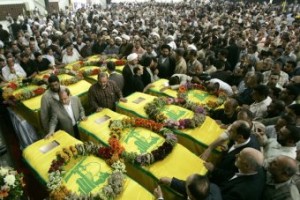 Forces loyal to Syrian President Bashar Assad shelled a strategic western town on Saturday in their heaviest barrage of a week-long battle to dislodge rebels from the opposition stronghold, activists said.
The Britain-based Syrian Observatory for Human Rights said at least 22 people including 18 rebels were killed and dozens wounded in the fighting in Qusair.
Pro-Assad troops, including fighters from the Lebanese Shiite militia Hezbollah, have been trying to push rebels out of Qusair. Syrian state media has said government forces steadily gained ground, including on Saturday. Local activists have denied regime gains and said rebel fighters are defending positions.
Qusair is important to Assad because it sits on a land corridor linking two of his strongholds, the capital of Damascus and towns on the Mediterranean coast. For the rebels, holding Qusair means protecting a supply line to Lebanon, 10 kilometers (six miles) away.
Saturday's barrage of rockets, mortar rounds and tank shells began after daybreak, said Qusair activist Hadi Abdullah and the pro-opposition Observatory. Both said it was the most intense shelling since the regime launched its offensive there a week ago. They also reported heavy gunfire.
The intense shelling could be heard in Lebanon's border areas and in the Syrian city of Homs, some 25 kilometers (15 miles) away.
The fighting over Qusair has highlighted the growing role of the Iranian-backed Hezbollah in Syria's civil war. The militia initially tried to play down its involvement, but could no longer do so after several dozen of its fighters were killed in Qusair and buried in large funerals in Lebanon.
In Turkey, the acting president of Syria's main opposition group harshly criticized Hezbollah for its role in Qusair. "Some Lebanese are being sent to Syria as invaders in order to return back home in coffins draped with shame," said George Sabra of the Syrian National Coalition.
"Oh Syrians, come and rescue Qusair, Maadamiyeh, Daraya and eastern Ghouta so that Syria remains, as it is today, a graveyard for invaders," Sabra said, referring also to suburbs of the capital Damascus where Syrian troops have been on the offensive in recent weeks.
In an indication that the rebel's weeklong stand is also becoming a symbol outside Syria, Mohammed al-Zawahiri – a prominent jihadi figure in Egypt and the brother of al-Qaida leader Ayman al-Zawahiri – issued a statement alongside 19 other ultraconservative Islamists and former militants calling on all Muslims to "help our people in Qusair."
"It is the duty of each Muslim to repel this aggression and stop the injustice, first by jihad with arms," the statement carried by a militant website said.
Egypt's Muslim Brotherhood criticized what it called Iranian intervention in Syria through Hezbollah, saying the Lebanese militant group has "burned" some of the good faith people had for it as well as its credibility by fueling sectarianism in Syria. The Brotherhood said Hezbollah lost the hearts of Arabs and Muslims, which it had won when it faced the "Zionist enemy," a reference to Israel.
Saturday's push comes ahead of a speech by Hezbollah chief Hassan Nasrallah, his first since the offensive began. The speech Saturday afternoon is to mark the anniversary of Israel's May 2000 withdrawal from southern Lebanon, commemorated each year by Hezbollah as a major military victory.
However, this year's anniversary comes at a time when Hezbollah is facing growing criticism in Lebanon for its involvement in the Syrian war.
The Syrian fighting has repeatedly spilled over into Lebanon, whose sectarian divide mirrors that of Syria. Assad opponents and supporters have been clashing for the past week in the Lebanese port city of Tripoli, using mortars, grenades and machine guns to attack densely populated areas.
Four people were killed by sniper fire Saturday, bringing the week's death toll to 29 including three Lebanese soldiers, said a Lebanese official who spoke on condition of anonymity in line with military regulations. More than 200 people have been wounded.
The fighting pits the predominantly Sunni Muslim district of Bab al-Tabbaneh against Alawites, followers of an offshoot of Shiite Islam, in the adjacent Jabal Mohsen area. Assad's Syrian regime is dominated by the president's Alawite sect, while most rebels are Sunnis.
Hezbollah is also facing repercussions in Europe over its support for the Syrian military.
Earlier this week, France and Germany joined a push by Britain to have the EU declare Hezbollah's military wing a terrorist organization. Such a move, long sought by the U.S., would hamper Hezbollah operations in Europe.
Late Friday, Hezbollah's deputy chief, Sheikh Naim Kassem told the Lebanese TV station Al-Mayadeen that the EU would make a "big mistake," but that such warnings don't concern the group. He did not elaborate.
In the northern province of Aleppo, the Observatory and the pro-opposition Aleppo Media Center reported clashes between rebels and members of the Kurdish Democratic Union Party, or PYD. The Observatory said the fighting was triggered by a rebel attack on a PYD checkpoint near the predominantly Kurdish village of Ziyara.
Meanwhile, Syria's fractured political opposition was meeting for a third day in Istanbul, Turkey on Saturday to elect new leaders, try to widen its base and forge a unified position ahead of possible peace talks with the regime.
The U.S. and Russia want to bring together representatives of the opposition and the Syrian government at an international conference in Geneva for talks on a possible transition government. Much remains up in the air, including the date, the agenda and the list of participants.
On Friday, Syria ally Russia said the Assad regime has accepted in principle to attend talks in Geneva, though there has been no official statement from Damascus.
The opposition is deeply suspicious about Assad's intention to hold serious peace talks, and senior opposition figures have ruled out attendance unless Assad's departure tops the agenda of such negotiations.
Louay Safi, a senior member of the Syrian National Coalition, the main opposition bloc, dismissed the Moscow's statement on Syrian attendance. "This announcement has to be made by the Syrian government, not the Russians," he said Saturday by phone from Istanbul.
Saudi Foreign Minister Prince Saud al-Faisal, whose country has been a strong backer of the opposition, said Saturday that Assad and "people close to him whose hands were tainted with the blood of the Syrian people, cannot have any role in the future of Syria."
Huffington Post