Obama seeks end to perpetual U.S. 'war on terror'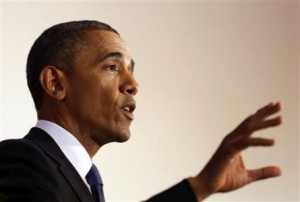 Twelve years after the "war on terror" began, President Barack Obama wants to pull the United States back from some of the most controversial aspects of its global fight against Islamist militants.
In a major policy speech on Thursday, Obama narrowed the scope of the targeted-killing drone campaign against al Qaeda and its allies and took steps toward closing the Guantanamo Bay military prison in Cuba.
He acknowledged the past use of "torture" in U.S. interrogations; expressed remorse over civilian casualties from drone strikes; and said that the Guantanamo detention facility "has become a symbol around the world for an America that flouts the rule of law."
After launching costly wars in Iraq and Afghanistan, the United States is tiring of conflict. While combating terrorism is still a high priority for the White House, polls show by large margins that Americans' main concerns are the economy and domestic concerns such as healthcare.
"We have now been at war for well over a decade," Obama said near the start of his address. Toward the end, he added: "But this war, like all wars, must end."
Though aimed first at a domestic audience, Obama's speech at Washington's National Defense University was also the latest milestone in his campaign to reshape the global image of the United States – particularly in the Islamic world.
But he faces obstacles from opponents in Congress who will try to block the closure of Guantanamo prison and reject his call to repeal the Authorization for Use of Military Force passed right after the September 11, 2001, attacks. The law is the legal basis for much of the "war on terror."
Faced with criticism about civilian casualties in attacks by unmanned aerial vehicles, Obama said the United States would only use those drone strikes when a threat was "continuing and imminent," a nuanced change from the previous policy of launching strikes against a significant threat.
That would subject drone attacks to more scrutiny from Congress and might lead to the Pentagon taking over drone operations in Yemen, but not in Pakistan, where the CIA is likely to continue to run the program.
With al Qaeda leader Osama bin Laden killed in a U.S. raid in 2011, a number of the group's top members taken out in drone strikes, and the U.S. military role in Afghanistan winding down, Obama made clear it was time for a policy shift.
"Beyond Afghanistan, we must define our effort not as a boundless 'global war on terror' – but rather as a series of persistent, targeted efforts to dismantle specific networks of violent extremists that threaten America," Obama said.
Human rights groups mostly welcomed Obama's assertion that America could not remain on "a perpetual war-time footing," but some activists said he was not going far enough.
Republican opponents warned against being too quick to declare al Qaeda a spent force.
"The President is correct to highlight the successes in America's war on terror that have occurred since September 11, 2001," said Senator Marco Rubio, a Florida Republican mentioned as a possible U.S. presidential candidate in 2016.
"He is wrong, however, to understate the continued threat to the U.S. homeland or to suggest that the lethality of the threats posed by a weakened al Qaeda and its affiliates is a return to a pre-9/11 norm that Americans should just accept," Rubio said in a statement.
'SPECIFIC AND RESTRICTIVE'
The new U.S. drone rules are likely to reduce "signature" drone strikes, in which the United States targets what appear to be suspicious-looking groups of people. Those attacks are blamed for many civilian casualties in Pakistan's tribal areas near Afghanistan and in Yemen.
Obama "has clearly raised the bar significantly for the use of drone strikes with the very specific and restrictive criteria," said John Bellinger, former State Department legal adviser in President George W. Bush's administration.
"The standard for targeting is now the same for Americans and non-Americans – it must be a continuing and imminent threat of violence to Americans. And there must be a near certainty that no non-combatants will be killed," he said.
The number of drone strikes has dropped in the past year after peaking in the middle of Obama's first term.
The New America Foundation's widely cited drone attack database shows there have been 355 drone strikes in Pakistan since 2004 and more than 60 in Yemen since 2009.
Despite the new limits on drone attacks, pilotless aircraft are increasingly playing a role in the armory of the United States and other countries. The U.S. Navy made aviation history on May 14 by launching an unmanned stealth jet off an aircraft carrier for the first time, with an eye on possible rivals like China and Iran.
While Obama largely has a free hand as commander in chief to set U.S. drone policy, Congress has used its power of the purse to block him from closing Guantanamo.
"I am grateful for the president's declaration that it remains his intent to close Gitmo. I am not confident he will get congressional support," said David Gushee, an ethics professor at Mercer University.
Obama has been frustrated by his inability to make good on his 2008 campaign pledge to shut the prison, which was opened by his predecessor, President George W. Bush, to hold men rounded up on suspicion of involvement with al Qaeda and the Taliban after the September 11 attacks.
A hunger strike by 103 of the 166 detainees – 32 of whom have lost so much weight that they are being force-fed – has put pressure on Obama to take action.
"There is no justification beyond politics for Congress to prevent us from closing a facility that should never have been opened," Obama said.
Obama's latest Guantanamo proposals will likely meet much of the same resistance his earlier ones did from Republicans and some Democrats who do not want to fund the transfer of detainees away from Cuba.
But two Senate Republicans, John McCain of Arizona and Lindsey Graham of South Carolina, said they could support closing Guantanamo and moving some of its functions to the United States if Obama presented a workable plan.
Obama suggested a suitable site could be found on the U.S. mainland to hold military tribunals.
McCain and Graham have proposed that trials could be held at Charleston Naval Yard in South Carolina. A supermax prison in Illinois has also been proposed in the past for housing Guantanamo inmates.
"I don't mind if we try to find a place to move it into the United States," said Graham, who has been critical of Obama's security policies.
"What I want is a legal system consistent with being at war, and the reason we haven't closed Guantanamo Bay is that we don't have a plan to close it," he said.
While he cannot shut Guantanamo on his own, Obama has announced steps aimed at getting some prisoners out. He lifted a moratorium on detainee transfers to Yemen out of respect for that country's reforming government. Yemenis make up the largest group of prisoners.
Of the 86 detainees who have been cleared for transfer or release, 56 are from Yemen. But al Qaeda has a presence in the country and Washington will likely want guarantees that the prisoners will not take up arms against the United States after they are sent home.
Among the TV audience for Obama's speech were detainees at Guantanamo, who rely on television broadcasts and newspapers for hints about their fate.
"Detainees follow all coverage of Guantanamo closely, including today's speech, and the post-speech commentary, analysis and editorials," said Navy Captain Robert Durand, a spokesman for the Guantanamo detention operation.
"There is interest and discussion, but no discernible reaction," he said.
Reuters