Geagea calls for a vote on electoral draft laws.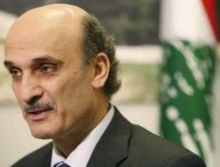 Lebanese Forces leader Samir Geagea called for convening the parliament in order to vote on the existing electoral draft laws.
"There is a natural and logical option [in this deadlock] which is to hold a parliament plenary session… and put the electoral proposals to a vote," Geagea said in remarks published in An-Nahar newspaper on Friday.
"Why is it [either holding] the elections according to the 1960 law or [falling into a political] vacuum? … [We could] vote on a law then hold the elections according to the law approved by the parliament," the LF chief proposed.
He also lashed out at Speaker Nabih Berri's decision not to convene a plenary session to vote on the electoral laws if no consensus is reached on one law prior to the session.
"His position is unconstitutional and unjust… He is disrupting the work of the parliament." He said
Geagea also reiterated his refusal to hold the upcoming parliamentary elections under the auspices of the 1960 electoral law.
"Our only option is the mixed proposal," LF's leader noted.
The Lebanese Forces party and its March 14 ally the Future Movement reached a deal last week over a hybrid electoral law ( to replace the current 1960 law) that was also approved by their former ally the Progressive Socialist Party.
Geagea's comments came days after Free Patriotic Movement leader MP Michel Aoun-who fiercely advocated for the adoption of the Orthodox law- announced that parliamentary election candidates from his party will apply for candidacies according to the 1960 law "to avoid having to face any eventuality."
Now