U.S. Senate Advances Call to Arm Some Syrian Rebels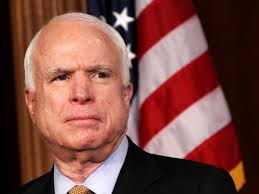 A key Senate committee overwhelmingly approved legislation that calls on the U.S. to provide small arms to moderate Syrian opposition groups, underscoring growing sentiment among lawmakers for a change in the U.S. approach to the conflict.
The 15-3 vote by the Senate Foreign Relations Committee showed broad support from both Democrats and Republicans for arming the rebels, though the legislation has to go through many more votes to be adopted, and even then wouldn't compel the administration to provide arms. Some lawmakers from each party voiced concern over the difficulty of ensuring weapons aren't misused and won't slip into the hands of radical Islamists aligned with al Qaeda.
The vote came as the government of Syrian President Bashar al-Assad, fighting alongside militants from Iran-backed Hezbollah, engaged in a third day of an offensive on the rebel-held city of Qusayr—a battle that, if won by government forces, could give a significant strategic boost to the regime. The Obama administration also fears that if the rebels lose control of Qusayr, Mr. Assad's forces will retaliate against local residents, a senior State Department official said.
"Vital national interests are at stake and we cannot watch from the sidelines," said the Foreign Relations Committee's chairman, Sen. Robert Menendez, a New Jersey Democrat who introduced the Senate bill.
Syria's battle showed further signs Tuesday of drawing in regional parties. Iranian fighters are involved in the Qusayr battle, the senior State Department official said, citing the rebel Free Syrian Army. Reports about Iranians inside Syria were conflicting, the official said, and it wasn't clear whether they are acting as combatants, advisers or both. Iranians have previously been reported to be serving as military advisers to Syria's government.
Tensions escalated as well along the Syrian-Israeli cease-fire border in the Golan Heights, as the two militaries exchanged fire, prompting Israel to say Mr. Assad will "bear the consequences" of further escalation.
Also Tuesday, the U.K. formally requested that the European Union add Hezbollah's military wing to the bloc's terror list, the foreign office said, a step that should force a decision on the issue in coming weeks.
The U.S. legislation to arm rebels could heighten pressure on the White House to shift its approach as it plans for an international conference next month on Syria that will include Russia and possibly representatives of the Assad government.
On Tuesday, Secretary of State John Kerry arrived in Oman on a Mideast trip to lay the groundwork for the conference. He will meet Wednesday in Jordan with regional allies. Although expectations for the June conference are low, U.S. officials want to use it to demonstrate a growing international consensus in favor of a new government to succeed Mr. Assad. Should the conference fail, arming the rebels could take on added urgency for the U.S. and its allies, officials said.
The Foreign Relations Committee's measure now goes to the full Senate, where Democratic aides said there was no chance for a vote before next week's Memorial Day holiday recess. Nevertheless, its eventual approval could spur action in the House of Representatives on a similar bill introduced earlier this year but yet to advance to a vote.
The co-sponsor of the House measure, Rep. Eliot Engel (D., N.Y.) applauded the Senate committee action, saying the approach "would put our Syria policy on the best possible course."
"Syria presents us with a series of difficult policy choices, but the most sensible of the alternatives is to support the moderate opposition," he said. "Otherwise, we leave the field to pro-Iran and pro-al-Qaeda forces to determine Syria's fate, and Syria will remain a humanitarian and strategic disaster."
President Barack Obama rebuffed a proposal last year to arm moderate rebel groups despite support for the move by top cabinet members, including the then-Central Intelligence Agency Director David Petraeus and then-Secretary of State Hillary Clinton. In recent weeks, however, Mr. Obama and his advisers have begun looking anew at the option of providing arms to moderate rebels groups, possibly in concert with Britain and France, according to senior administration officials.
The Senate bill authorizes the U.S. to provide small arms and training to units of the Free Syrian Army and other groups opposed to the Assad regime "that have been properly and fully vetted and share common values and interests with the United States." The bill says antiaircraft systems can't be transferred.
Sen. John McCain (R., Ariz.), an outspoken critic of Mr. Obama's response to the Syria crisis, said the legislation "sends a signal to the administration" that it needs to get more involved in helping end the crisis in Syria.
But Mr. McCain said more action will be needed beyond providing small arms "if we are going to reverse the tide that's now taking place in favor of Bashar Assad." Sen. McCain said the rebels need heavier weapons that those authorized under the current Senate bill.
During Tuesday's hearing, several lawmakers raised objections to providing small arms.
Sen. Mark Udall (D-Colo.) warned of the dangers of arming rebel forces whose intentions are unknown. "I think we have to ask the question, 'Who are we arming?'" Sen. Udall asked fellow senators. "To tell you the truth, I don't think we know.…It changes every day."
Sen. Rand Paul, a Kentucky Republican, said lawmakers who supported the legislation were in effect supporting the provision of arms to rebel groups that are "the allies of al Qaeda," referring to the Islamist al-Nusra Front, a powerful force in the insurgency against Mr. Assad. "It's an irony you cannot overcome."
Sen. Marco Rubio (R., Fla.) countered Mr. Paul's argument, saying arms now were flowing to Nusra and to the Assad regime, marginalizing more moderate elements in the resistance.
To address concerns that U.S. antiaircraft weapons could fall into the hands of extremists, the legislation would require the president to certify that such arms, if he decides to provide them, have been equipped with tracking, disabling or anti-tamper devices.
Tuesday's exchange in the Golan Heights marked the first time the Syrian army has acknowledged firing intentionally at Israeli troops since the civil war began. In a statement, Syria's army said it had destroyed an Israeli jeep that crossed over its border. Israel's army chief, Lt. Gen. Benny Gantz, denied that allegation—instead accusing the Syrian leader of fomenting instability, in a sharp departure from previous Israeli characterizations of cross-border fire as errant spillover from Syria's war.
"We will not allow the Golan Heights to become comfort zone for Assad's reprisals," Lt. Gen. Gantz said. "If he destabilizes the Golan Heights, he will bear the consequences."
Tensions between the sides have risen in recent weeks after Israeli airstrikes near Damascus targeted what Western intelligence officials say were missiles en route to Hezbollah.
Hezbollah came under new scrutiny from the EU, as well. However, U.K. officials stressed their decision to push for a blacklisting was related not to Syria, but to evidence linking Hezbollah to a bombing in Bulgaria last year that killed five Israelis and a local bus driver.
For years, most EU member states have resisted pressure from the U.S. and Israel to cut ties with Hezbollah, arguing it could undermine a fragile peace in Lebanon where Hezbollah is a powerful political party.
However, the issue returned to center stage following a preliminary report by Bulgarian authorities linking the group to last July's bombing at an airport in Burgas. Hezbollah's growing involvement in Syria also has eroded the political ties it had to some European countries, diplomats say.
"We are calling for Europe to respond collectively and robustly following the atrocious terrorist attack at Burgas airport and in light of the recent conviction of an Hezbollah operative in Cyprus," said a spokeswoman for the U.K. foreign office. "We firmly believe that an appropriate EU response would be to designate Hezbollah's military wing as a terrorist organization."
The U.K. request means member states must discuss the issue at a closed-door session of a special committee that examines the case for blacklisting an individual or group. Any decision to add Hezbollah to the terror list must be backed by all member states based on concrete legal evidence.
The meeting will likely take place June 4, two EU diplomats said. The U.K. is pushing for an EU decision to follow later in June, said one of the diplomats.
WSJ