Lebanon leaning toward parliament term extension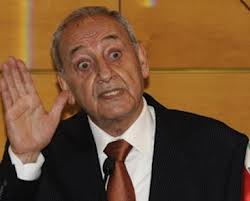 Lebanon Parliament Speaker Nabih Berri is making contacts with key politicians in the country to negotiate a formula to extend the Parliament's term between six months to two years after parliamentary subcommittee meetings to devise a new electoral law for next month's elections reached a dead end, according to local media reports .
Berri according to the reports will call for a Parliament session in the next few days to extend the legislative body's term .
Such an extension would require a constitutional amendment, and given the historical precedent set by lawmakers for making such amendments, an extension looks likely.
But the Parliament extension would bring new and more complex questions to the fore, political sources said: Will Parliament renew the term of the speaker as well? And if the extension lasts one year, or more, will the Parliament be able to elect a successor for President Michel Suleiman?
In 1976, political and security developments in the country forced politicians to vote to extend Parliament's term for four years and the 15-year-long Civil War required similar extensions four consecutive times.
Despite the possibility of a fait accompli extension several politicians are calling for timely elections . The Future Movement parliamentary bloc said that elections should be held as soon as possible to restore people's confidence in the constitutional institutions.
"Parliamentary elections should be held as soon as possible to restore people's confidence in constitutional institutions, especially after the mandate given by the Lebanese to their MPs comes to an end," the bloc said in a statement after its weekly meeting in former Prime Minister Saad Hariri's residence.
The bloc also said that failure to devise a new electoral law for the upcoming polls would make the country susceptible to a dangerous political vacuum.
"The current situation makes it mandatory to agree on a new law," said the bloc, adding that only such an agreement would allow for a short-term extension of the Parliament's term.
The Future Movement added that it was still committed to the hybrid electoral law formula that it proposed along with the Lebanese Forces and the Progressive Socialist Party. "We are committed to put the hybrid law in the Parliament for a vote."
But Free Patriotic Movement leader Michel Aoun called on Berri to convene a Parliament session and put both the Orthodox Gathering and hybrid proposals to a vote.
"Let us first put the Orthodox Gathering proposal to a vote and see if it gets enough votes, and if it doesn't, let us vote on the hybrid law and see if it passes," said Aoun in a news conference at his residence in Rabieh.
While observers say that it is still technically possible to hold polls next month, less than 40 candidates have so far submitted their applications to run for a seat in the elections set for June 16.
March 8 politicians said they preferred a two-year extension of the Parliament's term, over a shorter one.
MP Fattoush who defected from March 14 to the March 8 camp revealed that he has submitted a proposal on a two-year extension of parliament's mandate without coordinating with any side.
But President Michel Suleiman has rejected a long term extension of the legislature's four-year mandate, which expires on June 20.
MP Antoine Zahra, a key member of the Lebanese Forces bloc said that his party was negotiating for a short-term parliamentary extension to ensure that an agreement over a new electoral law was reached.
"Extension of the Parliament's term is now inevitable regardless of what electoral law will govern the polls," Zahra said in a Future television interview.