Germany backs adding Hezbollah to EU terror list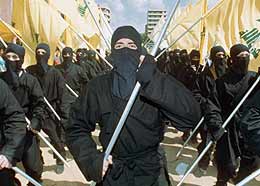 Germany says it supports adding the military wing of the Lebanese Shiite groupHezbollah to the European Union's list of terrorist groups.
Germany's foreign ministry says the decision follows "discussions we have had with our partners following the terrorist attack in Burgas" on the Bulgarian coast last year that killed five Israelis and a Bulgarian bus driver.
Bulgaria has accused Hezbollah of the attack, a charge the Shiite group denies.
Germany had previously resisted calls to list Hezbollah as a terrorist organization for fear it could destabilize Lebanon.
But the foreign ministry said in a statement Wednesday that Germany's position had changed due to new and clearer information about the Lebanese militant Shiite organization's activities and analysis provided by authorities on the Mediterranean island of Cyprus.
AP