Israel backs Kerry peace moves, report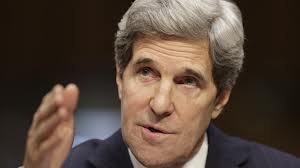 Israel's center-right government will support US efforts to revive peace talks with the Palestinians, despite hardline positions held by ministers and coalition parties, a prominent MP said on Monday.
"If (Prime Minister Benjamin) Netanyahu goes on the path that US Secretary of State Kerry is encouraging… he will have the full support of… the majority of the parliament," Ofer Shelah, a member of the powerful Yesh Atid party told army radio.
Kerry has been back and forth to the region to push for the resumption of peace talks between Israel and the Palestinians, and is due to return on Thursday for his fourth visit since taking office in February.
"Solving the Israeli-Palestinian dispute within the framework of two states for two peoples is in the highest interest of the state of Israel and in the highest interest of every Israeli government including the present government of which we are a part," Shelah said.
The MP added that Netanyahu would have the "full support of (Finance Minister) Yair Lapid and (Lapid's) Yesh Atid," the second-largest party in the Knesset and a member of the ruling coalition.
The comments came despite opposition from Lapid, in a New York Times interview published on Sunday, to a settlement freeze and to ceding east Jerusalem to Palestinian rule, two of the Palestinians' top demands.
"Mr Lapid said he would not stop the so-called 'natural expansion' of settlements in the West Bank, nor curtail the financial incentives offered Israelis to move there," the New York Times wrote.
It quoted him as saying that mainly-Arab east Jerusalem, which the Palestinians claim as the capital of their future state, must remain under Israeli sovereignty because "we didn't come here for nothing."
Israel captured east Jerusalem from Jordan in the 1967 Six-Day War and annexed it shortly after, in a move never recognised by the international community.
As well as his post at the treasury, Lapid holds a key place in Netanyahu's coalition government, sitting on the powerful security cabinet.
Like Netanyahu, Lapid wants an interim agreement with temporary borders — a concept repeatedly ruled out by Palestinian president Mahmud Abbas — rather than a fully-fledged peace treaty establishing a Palestinian state.
Another coalition partner, the ultra-nationalist Jewish Home, has pledged to raise the number of Jewish settlers in the occupied West Bank.
AFP