Saudi woman scales Everest for first time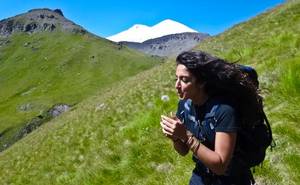 Mountaineering officials say 64 climbers, including a Saudi Arabian woman, have successfully scaledMount Everest from Nepal's side of the mountain.
Tilak Padney of Nepal's Mountaineering Department says 35 foreigners accompanied by 29 Nepalese Sherpa guides reached the 8,850-meter (29,035-foot) peak on Saturday morning after climbing all night from the highest camp on South Col.
All were reported to be safe.
Among them was Raha Moharrak, who became the first Saudi Arabian woman to scale the world's highest peak.
Raha Moharrak, a 25-year old graphic designer, is the only woman in a group of four Arabs who announced two months ago that they would be reaching the summit in 2013.
"The first ever Saudi woman to attempt Everest has reached the top!! Bravo Raha Moharrak. We salute you," said a tweet from the group, according to Al Jazeera.
The "Arabs with Altitude" group includes Mohammed Al Thani, a member of Qatar's royal family, Raed Zidan, a Palestinian real-estate businessman and Masoud Mohammad, an Iranian living in Dubai who owns an ice-cream franchise.
Ahead of her trip, Moharrak said: "I really don't care about being the first … so long as it inspires someone else to be the second."
Everest can be climbed from either Nepal or Tibet, and about 3,000 people have made it to the summit.
May is the most popular month for Everest climbs because of more favorable weather.
CSM