Syria's Banias massacre toll over145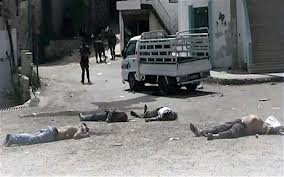 THE Syrian Observatory for Human Rights has documented the deaths of at least 145 people in a "sectarian massacre" earlier in May in the coastal city of Banias, the watchdog says.
The number of identified victims, among them children and babies, has risen in the past two weeks because "dozens were missing, their bodies buried in their burnt-down homes, or under the rubble of their houses," said the Britain-based group.
Some victims were "buried in secret, while the security forces were present", it said.
The watchdog said the May 3 mass killings in Banias amounted to a "sectarian massacre".
Fighters who entered the Ras al-Nabaa neighbourhood of Banias included regular troops as well as militiamen loyal to the paramilitary National Defence Force, it said.
"Many houses were destroyed," said the Observatory, which relies on a broad network of activists, doctors and lawyers for its reports.
"Among those killed were 34 children aged under 16, including babies, and 40 women," it said.
Just a day before the slaughter, at least 51 people were killed in the Sunni village of Bayda, south of the Banias.
Observatory head Rami Abdel Rahman echoed statements by Syrian activists and said the killings were motivated by sectarianism.
The majority of Syria's population is Sunni Muslim, while President Bashar al-Assad belongs to the minority Alawite clan.
Many of the country's Alawites live on the coast.
Activists say the regime has taken a particularly harsh position on any signs of anti-regime sentiment along the coastline.
"Because it is motivated by sectarianism, this was one of the most savage massacres committed by the Syrian security forces and the pro-regime armed militias since the start of the (anti-Assad) revolt," said the Observatory.
The statement comes a day after at least 112 people were killed in violence across Syria, the Observatory said.
More than 94,000 people have been killed in the country's conflict, which erupted in March 2011 when the regime unleashed a brutal crackdown against what started out as a peaceful uprising.
Courrier mail