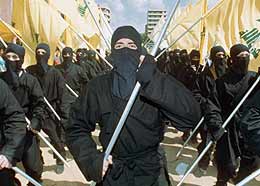 By: Nayla Tueni
Once you hear Lebanese MP Michel Aoun threatening prime minister-designate Tammam Salam, you realize the momentum that Aoun and others derived from Hezbollah Secretary General Sayyed Hassan Nasrallah's recent television appearance. Nasrallah announced that he will expand his activity and open the Golan Front against Israel. An Iranian official later announced that a resistance brigade, similar to Hezbollah, is being formed in Golan – a front long forgotten by the Syrian regime during the reign of both Hafez and Bashar al-Assad.
Nasrallah thus made a television appearance. The Syrian envoy in Lebanon cheered and politicians began making statements again. So Hezbollah MP Mohamed Raad threatened Salam on Saturday saying any cabinet that "trespasses" the demands and the conditions "will not see the light." MP Michel Aoun concurred later on Saturday evening and warned those "supervising the cabinet formation today that such work is considered an act of coup against the constitution."
Have they forgotten?
Which constitution do they speak of when they themselves staged a coup against it and forcefully imposed a new reality on May 7, 2008? Which constitution do they speak of when they are the ones who toppled Saad Hariri's cabinet by making use of the support of Minister Adnan as-Sayyed Hussein? They toppled Hariri's cabinet upon orders of a foreign will in order for the Syrian regime to form a cabinet of its allies in Lebanon without granting the March 14 coalition the rights that Mohamed Raad is demanding today. Where were "moral and constitutional rights" when he and his coalition excluded a political party that widely represents people of different sects and areas?
The demand of partnership may be rightful. But partnership has protocols and not conditions. Partnership does not mean imposing your will or controlling the cabinet's decision and fate. Granting the prime minister-designate the chance to be guarantor is an acceptable, available option. There is no fear of this option as long as Hezbollah and its March 8 allies have the ability to obstruct parliament and not provide a two thirds when a vote is cast on a huge decision. There is no fear of this option as long as Hezbollah possesses weapons and as long as its secretary general warns us of possessing more advanced weapons that "break the balance."
Obstructing constitutional life
Given all this, the "guaranteeing" one third – as March 8 calls it – becomes an obstructer of constitutional life instead of guaranteeing it. It becomes a factor that helps dominate the country since the obstructing party has the authority to push the cabinet to resign anytime it wants.
Despite this, MP Raad makes statements about the right of partnership, which is everyone's right – a right many have been deprived of under a joint local Syrian sponsorship. It would have been preferable if those demanding these rights, since they believe in them, actually help us attain our right to live peacefully without being dragged by their party into a war with Israel or into a military involvement in Syrian affairs and without engaging us in the thorny Golan issue at a time when the Shebaa Farms issue remains disputed. We also do not want to be placed under the submission of Iran's scheme in its struggle with the Arab world .
Who grants us all these rights when the one who enjoys them claims he is being unjustly treated?
This article was first published in Lebanon based An Nahar on May 13 .
Al Arabiya
This error message is only visible to WordPress admins
Error: No connected account.
Please go to the Instagram Feed settings page to connect an account.