LF / Future movement electoral law deal angers Aoun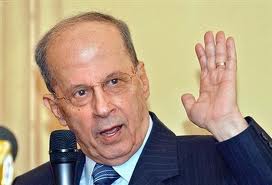 Free Patriotic Movement leader MP Michel Aoun was angered by the agreement reached between The Lebanese Forces party and its March 14 ally the Future Movement and criticized on Wednesday the political parties' failure to approve the Orthodox Gathering electoral law during a parliament session.
Aoun said at the parliament : "Some of the parties that backed the proposal abandoned it therefore toppling the most important law for Christians,"
adding: "The same concessions that were made during the approval of the Taif Accord are being repeated today."
"We were waiting on this historic day for a fair electoral law to be approved," he stated.
Aoun accused the Christian parties that did not back the Orthodox Gathering draft law of violating the principle of coexistence in Lebanon.
"We are concerned with offering fair representation for Christians, while the others only care about gaining more seats in parliament," said Aoun
Lebanon Speaker Nabih Berri had called parliament to convene on Wednesday in order to vote on the Orthodox Gathering electoral, but the session was suspended over the lack of quorum. March 14 and PSP announced yesterday that they will boycott the session if the Orthodox Gathering proposal is the only item on the agenda
The Orthodox Gathering proposal had been rejected by President Michel Suleiman, caretaker Premier Najib Mikati, the Future Movement , MP Walid Jumblat's National Struggle Front and independent Christian MPs. They claim that it encourages extremism and leads to more sectarianism in the country.