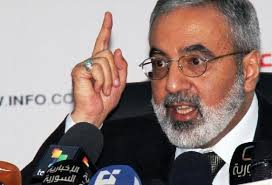 Syria wants details on a U.S.-Russian proposed peace conference before it decides whether to attend and says the role of President Bashar al-Assad is a decision "only for the Syrian people and the ballot box", a minister said.
Syrian Information Minister Omran Zoabi was quoted by state news agency SANA on Tuesday as saying Syria welcomed the proposal but "will not be a party at all to any … meeting which harms, directly or indirectly, national sovereignty".
Assad's departure has been a demand of the opposition since the revolt started two years ago and previous peace efforts have ground to a halt over failure to specify Assad's future role.
Zoabi's comments, which are in line with Syria's longstanding policy, will pour more cold water over a conference proposal that is yet to be agreed on by either warring side. SANA said he was speaking in an interview on Monday with the Lebanese militant group Hezbollah's television station al-Manar.
The minister said Syria wanted a political solution but that international efforts should also deal with "terrorists", a term the Syrian government uses to refer to rebel fighters.
More than 80,000 people have been killed during the war, an anti-Assad rights group says, and millions more have been displaced. International powers have taken sides, with the West and Gulf countries supporting the opposition while Iran and Russia back Assad.
Reuters