Japanese mayor sparks outrage with sex-slave remarks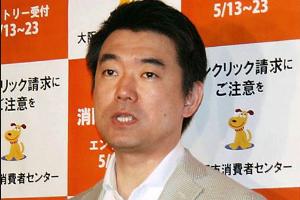 China expressed outrage on Tuesday over remarks by the mayor of the Japanese city of Osaka who said Japan's system of military brothels during World War Two was "necessary", as the Japanese government sought to distance itself from the comments.

Asian victims of Japan's war-time aggression, including many people in China and South Korea, are sensitive to what they see as any attempt by Japanese politicians to excuse Japanese abuses before and during the war.
Osaka mayor Toru Hashimoto is an outspoken populist who has often stirred controversy.
"Anyone can understand that the system of comfort women was necessary to provide respite for high-strung, rough and tumble crowd of men risking their lives under a storm of bullets," Hashimoto told reporters on Monday.
"At the time, it was a necessary system to maintain military discipline."
Historians estimate that as many as 200,000 so-called comfort women were forced into sexual slavery in the Imperial Japanese Army's brothels before and during World War Two.
China, where bitter memories of Japan's wartime aggression run deep, denounced the remarks.
"The forced recruitment of comfort women was a serious crime of Japanese militarism at the time of World War Two. This is an affront to human dignity and a major human rights problem," Chinese Foreign Ministry spokesman Hong Lei said.
"We express shock and strong indignation toward the Japanese politicians who have made public an open challenge to human conscience and historical justice," Hong told a news conference.
"How Japan faces up to the past will decide its future. Asian neighbors and international society are waiting to see what choice Japan will make."
South Korea also denounced the Japanese politician's comments and had demanded an apology, South Korean media reported.
"HEARTACHE"
Japan's government has recently sought to tone down remarks over wartime history by its own members – including Prime Minister Shinzo Abe – that have further frayed ties with China and South Korea, already tense due to territorial feuds.
Last month, tension mounted after three Japanese cabinet ministers visited Tokyo's Yasukuni Shrine for war dead and then Abe cast doubt on whether his government agreed with a landmark 1995 apology by Japan for its wartime actions.
Chief Cabinet Secretary Yoshihide Suga declined direct comment on Hashimoto's remarks.
Hashimoto is a former lawyer and co-leader of the small Japan Restoration Party, with which Abe has eyed cooperation to push conservative policies such as revising the pacifist, post-war constitution.
But Suga said: "The government's stance is, as we have said before, that we feel great heartache when we think about the indescribable suffering of those who experienced this."
He added that Abe's cabinet held the same view on the matter as previous Japanese governments.
In a 1993 statement by then Chief Cabinet Secretary Yohei Kono, Japan admitted military involvement in forcing Asian and other women into sexual slavery at wartime brothels and apologized for that.
Some conservative Japanese politicians, however, argue there is no conclusive proof of direct military involvement.
Reuters