Lebanon: EU threatens to pull out its UN peacekeepers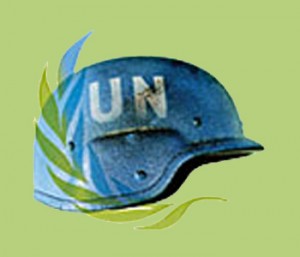 BEIRUT, Lebanon- The European Union is threatening to pull out its U.N. peacekeeping troops from southern Lebanon if security is not enhanced, officials said.
Syrian rebels Sunday released four Filipino United Nations peacekeepers it took captive last week on the Syrian side of the Golan Heights, al-Jazeera reported. The four who were captured by members of the Yarmouk Martyrs Brigade, a Syrian rebel group, were transferred to Israel, sources told the network.
In light of the latest abductions, Angelina Eichorst, the E.U. ambassador in Beirut, asked Lebanese Prime Minister Najib Mikati to guarantee the safety of European peacekeeping forces. Eichorst warned failure to do so will lead to an E.U. withdrawal from the U.N. peacekeeping forces deployed on the Israeli-Lebanese border, a European Union source told the Maariv newspaper Sunday. The source is affiliated with the European Parliament's foreign policy committee, the newspaper said.
The source said the European Union is deeply concerned about the situation in Syria and Hezbollah's involvement in the Syrian civil war, the newspaper said.
"Hezbollah's involvement in Syria has already affected a number of places in Lebanon, caused unrest, exchanges of gunfire and deaths," the sources said. "Because of the recent kidnapping on the border between Syria and Israel, we cannot take more risks."
U.N. Interim Forces in Lebanon, UNIFIL, was established in the late 1970's. It recently renewed its mandate in accordance with the 2006 U.N. resolution 1701.The majority of the peacekeeping forces come from European countries.
UPI