Jumblatt meets Hariri during a surprise visit to Saudi Arabia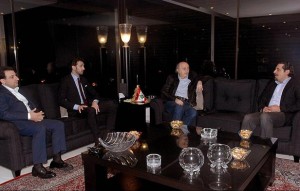 Former Lebanese Prime Minister and Future Movement leader MP Saad Hariri met with Progressive Socialist Party leader MP Walid Jumblatt in Saudi Arabia's Jeddah to discuss the formation of a government and other related issues, according to a statement by Hariri's press office.
The statement added that the two parties met to discuss the efforts exerted by Prime Minister-designate Tammam Salam to form a new government, as well as the proposals for a new parliamentary electoral law.
According to the statement Hariri and Jumblatt also addressed the thorny issue of of Hezbollah's involvement in Syria and underscored the importance of "opposing these [actions], since they threaten co-existence and our [nation's] security, social, political, and economic interests. […]"
According to LBC Jumblatt made a surprise visit to the kingdom on Saturday night in order to address the latest developments in Lebanon. He was reportedly accompanied by his son Taymour, Caretaker Social Affairs Minister, Wael Abou Faour and MP Nehmeh Tohme.
After meeting Hariri, Jumblatt then held talks with Saudi Intelligence chief Prince Bandar bin Sultan, according to Voice of Lebanon radio (93.3) .
According to LBC Jumblatt is scheduled to meet with several Saudi officials .