Syria conference not possible in May, says Russian official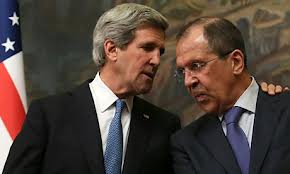 A Russian official said on Saturday it would not be possible for an international conference aimed at bringing Syrian government and opposition envoys together for negotiations to be held by the end of May.
U.S. Secretary of State John Kerry and Russian Foreign Minister Sergei Lavrov had announced on Tuesday that Washington and Moscow would seek to organize a conference on Syria and expressed hope it could be held this month.
"By the end of May is impossible," the Russian official, who was at talks on Friday between President Vladimir Putin and British Prime Minister David Cameron, told reporters on condition of anonymity.
Reuters