US: Russian missiles sale to Syria "destabilizing"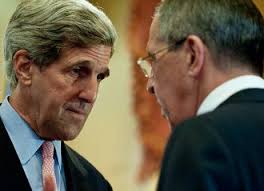 The United States has appealed to Russia to stop the reported delivery of six batteries of advanced S-300 anti-aircraft missiles to the Syrian government, warning that this type of weaponry threatens to "destabilize" the region.
According to media reports, the US was alerted this week by Israel that Russia is preparing to begin deliveries, perhaps as early as this summer, on a $900-million contract for six S-300 launchers with 144 of the long-range surface-to-air missiles. They are said to be the equivalent to the US Patriot system.
"We have consistently called on Russia not to provide a further supply of weapons to the Assad regime, including air defense systems that are particularly destabilizing to the region," White House press spokesman Jay Carney told journalists on Thursday.
"I think we have made it crystal clear that we would prefer that Russia is not supplying assistance," to Syria, Secretary of State John Kerry told journalists during a visit to Italy.
"We have previously stated that [these] missiles are potentially destabilizing with respect to the state of Israel," he said.
Israel has carried out two airstrikes on Syrian targets in the past week, dramatically raising the stakes in the Syrian civil war, which is now in its third year.
Introduction of the S-300 into Syria's air defense arsenal could sharply limit the future options not only for Israel but for the US as well, should it decide to intervene in the conflict.
The latest version of the S-300 reputedly has a range of 125 miles, can engage 12 targets simultaneously, and can strike missiles or aircraft at altitudes of up to 20 miles.
The US and Israel waged a long and ultimately successful diplomatic campaign to persuade Russia to renege on a contract it had signed many years ago to provide S-300 missiles to Iran.
But since agreeing in 2010 to cut off arms supplies to Iran, the Kremlin has dug in its heels and refused to sign on to any more sanctions against its dwindling number of client states.
Russia has an estimated $5 billion in outstanding arms contracts with Syria, mostly sophisticated anti-aircraft weapons, tactical surface-to-surface missiles, submarines, warships, and training aircraft.
Though Moscow has not yet commented on the allegation that it is preparing to deliver S-300s to Syria, Russian officials have repeatedly insisted that they are acting within the framework of international law in honoring arms contracts with a long-standing ally that is not subject to any United Nations-approved sanctions.
Moscow also complains that the US continues to sell huge amounts of modern arms to its Arab clients, such as Saudi Arabia, some of whom it says are surreptitiously arming the Syrian rebels.
The fresh accusations against Russia for supplying arms to Syria come just days after Mr. Kerry met with President Vladimir Putin in the Kremlin and agreed on the need for Russia and the US to combine efforts in a joint push to find a peaceful settlement to the spiraling Syrian conflict.
CSM