U.S. reassures Syria rebels about its stance on Assad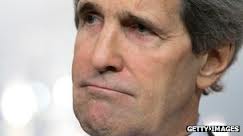 The new U.S.-Russia peace initiative for Syria will inevitably lead to the departure of President Bashar Assad, Secretary of State John F. Kerry said Thursday, moving to reassure Syrian rebels and their allies that the Obama administration had not backed down on its insistence that Assad must go.
"There is no way that anybody here believes that the opposition is ever going to give consent to President Assad to be running that government," Kerry told reporters in Rome.
His comments are part of a concerted U.S. campaign to convince a skeptical opposition that Washington has not softened its stance on Assad, even if his government is invited to the peace talks envisioned in the U.S.-Russia plan.
The blueprint for negotiations comes as pressure mounts on the White House to provide arms and other military assistance to the Syrian rebels, who have suffered several military setbacks to government troops in recent weeks. Washington says it has provided only nonlethal aid to the rebels.
Exiled opposition activists and rebel leaders in Syria have generally reacted warily to the peace proposal. Many opposition activists have flatly rejected any talks with Assad, saying there is too much blood on his hands.
"The primary condition is that the negotiations come after Bashar al-Assad, that they come after his era, such that he is even not mentioned," one rebel commander, known as Abu Azzam, said Thursday when reached by telephone in northern Syria.
A major U.S.-backed opposition umbrella group, the Syrian National Coalition, said it welcomed "all international efforts that call for a political solution … provided that it begins with the departure of Bashar al-Assad and the tenets of his regime."
The Syrian government, a close ally of Russia, has welcomed the peace initiative as a triumph of international law and "the right of people to decide their fate without foreign intervention," reported the pro-regime daily Al Watan.
Assad has long characterized the rebellion as a foreign-inspired "conspiracy" to topple his government and undermine the tripartite "resistance" alliance of Syria, Iran and Hezbollah, the militant group based in neighboring Lebanon.
U.S. officials are engaged in a delicate effort to bring the opposition to the negotiating table for the talks and yet assure them that the fundamental outcome — Assad's departure — is guaranteed.
No date or site has yet been set for the planned sessions, which would be the first face-to-face peace talks since the crisis erupted more than two years ago.
"Our position is that Syria's future cannot include Bashar al-Assad," White House Press Secretary Jay Carney said Wednesday, a day after the U.S.-Russia plan was unveiled in Moscow following discussions between Kerry and Russian leaders, including President Vladimir Putin. "Assad himself has given up all rights to represent the Syrian people."
The United States and Russia, long at loggerheads over their Syria policy, heralded the prospective negotiations as a potential breakthrough in a bruising conflict that has cost tens of thousands of lives and caused fear of a possible regional war and the deployment of chemical weapons.
"We all know that the current path in Syria is simply unsustainable," Kerry said Thursday. It "will only lead to greater bloodshed, greater destruction, greater instability, a greater humanitarian crisis, a greater challenge to the stability of neighboring states, to the potential of extremists becoming stronger, and the potential of chemical weapons falling into the hands of dangerous people."
The planned peace conference would be based on an international accord reached in June in Geneva that called for a cease-fire and negotiations between the Syrian regime and its opponents, with the aim of forming a transitional government acceptable to both sides. Members of the transitional administration would require "mutual consent."
U.S. officials say the "mutual consent" mandate means that any transitional governing body would exclude Assad because the opposition would never agree to his presence. But Moscow, long a major ally of Assad and the principal arms supplier to his regime, argues that Assad's exclusion from the transitional government is not assured.
Russian officials say they are not insisting on the survival of Assad, but they note that the Geneva accord says the fate of his government is to be decided by Syrians in negotiations.
The secretary of State's comments in Rome come as reports surfaced that Israel had warned the United States that Russia was about to complete the sale of advanced, S-300 ground-to-air missile batteries to Syria. Kerry called the missile sales "potentially destabilizing," but his criticism of Moscow was muted at a time when the two nations were cooperating in the effort to jump-start peace talks.
"I think we've made it crystal clear that we would prefer that Russia was not supplying assistance" to Syria, Kerry said. "That is on record; that hasn't changed."
Israeli officials declined to comment Thursday on the report of new Russian missile shipments, but Israel has long been concerned about Russia's weapons sales to Syria.
Analysts said Syria wants the missiles in part to defend against Israeli airstrikes. Since January, Israel has launched three air attacks against Syrian weapons stockpiles that it said were earmarked for the Lebanese militant group Hezbollah.
"Syria sees this as a defense weapon," said Eyal Zisser, a Syria expert at Tel Aviv University. "Of course Israel would rather have clear, free skies. This would make it more difficult."
But he said the sale, if it occurred, would not significantly alter the balance of power or prevent Israel from operating in Syria if needed.
But in another sign of how the Syrian conflict is spilling across borders, Hezbollah said Thursday that it was expecting delivery of unspecified "game-changing" arms from Syria.
"We are ready to receive any game-changing weapons, and we are ready to possess and protect them, and use them to defeat the aggression against our people, our land and our holy places," Hezbollah Secretary-General Hassan Nasrallah said in a televised speech.
The Islamic militant group has confirmed that some of its members have been fighting Syrian rebels in Syrian territory near the Lebanese border. But Nasrallah has called the Hezbollah deployment limited, denying opposition accounts of a large-scale Hezbollah presence fighting alongside Assad's forces in Syria.
LA Times