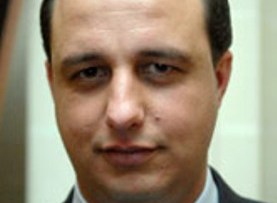 A Future Movement MP blasted Hezbollah chief accusing him of dragging Lebanon into the Syrian civil war and calling on him to leave Lebanon and take all his fighters with him to Syria.
Commenting on yesterday's speech of Hezbollah leader Hassan Nasrallah, Future Movement MP Riad Rahhal said the Hezbollah chief assumed the roles of Lebanon's defense and interior ministers and declared war."
"Let Nasrallah move to Damascus and take along with him all the Hezbollah fighters so that he doesn't drag us into a war," he said in an interview with Future television.
Several other Future Movement bloc MPs blasted Nasrallah's speech .
MP Mohammad Kabbara accused the Hezbollah leader of subservience to Iran in a statement released on Friday.
"Nasrallah is implementing a clear Iranian mission that aims to prevent the Syrian people from achieving victory and to shield President Bashar al-Assad and his Shabihas from falling."
Kabbara also said that the Hezbollah leader inadvertently revealed in his speech that the Assad regime has become weak.
"Hasn't it occurred to [Nasrallah] that he revealed in his speech that the Assad regime cannot protect itself and that it entrusted the militias of Nasrallah and the Shabihas with this mission?" the MP inquired.
MP Ahmad Fatfat slammed Nasrallah's "decision to drag Lebanon into war " during an interview with LBC
"He declared that he sidelines the Lebanese state and institutions and that he is not concerned with the policy of disassociation or Lebanese sovereignty… and took the decision to drag Lebanon into war."
During a speech on Thursday, the Hezbollah leader responded defiantly to Israel's recent air strikes in Syria, saying his group would receive advanced weapons from Syria and vowed to use all Hezbollah means to support the "liberation of the Israeli-occupied Golan Heights. "
"We announce that we stand by the popular resistance in the Golan Heights and we offer both out military, financial and moral support in an effort to liberate the occupied territory."
Nasrallah praised the Syrian regime's reaction to the Israeli airstrikes:
"All the recent events that have taken place illustrate that there is strong leadership guiding Syria in the battle against the enemy with nerves of steel and great wisdom, as well as calmness and courage. This will achieve victory, God willing."
This error message is only visible to WordPress admins
Error: No connected account.
Please go to the Instagram Feed settings page to connect an account.