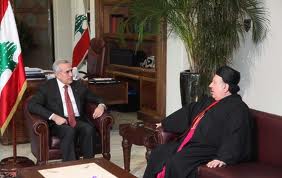 Beirut Maronite Bishop Boulos Matar has reportedly been tasked by Bkirki to promote a hybrid electoral law that combines the current winner-takes-all system and the newly proposed proportional representation system.
According to An Nahar the proposal calls for 68 candidates to be elected under the winner-takes-all system in 26 electoral districts and 60 via proportional representation in 11 districts. An Nahar reported that this was previously proposed by President Michel Suleiman.
The plan had faced several obstacles over differences between the rival parties on the division of seats under the two systems, An Nahar added.
But during an interview with Voice of Lebanon radio (93.3) Matar denied that he is promoting a "specific proposal " and stressed that he is searching for a consensus electoral law that is fair to all.
"We are in the process of searching for a consensus electoral law that is fair to all" after the so-called Orthodox Gathering proposal was dropped by the four main Christian parties, he told VOL
Matar, who on Tuesday met with President Michel Suleiman, Future Movement bloc leader Fouad Siniora and caretaker minister Wael Abu Faour, told al-Joumhouria newspaper that the talks came as part of the search for a consensus electoral law.
Matar also met on Friday with Speaker Nabih Berri and Progressive Socialist Party chief MP Walid Jumblatt.
Abu Faour and MP Akram Shehayyeb, two Jumblat envoys, visited Matar on Tuesday as a goodwill gesture after the bishop's meeting with the PSP chief in Mukhtara.
"Things are making progress," Matar told al-Joumhouria.
The bishop also said that Maronite leaders will hold a meeting in Bkirki before May 15 to study the results of the consultations held among the country's political figures to reach consensus on a vote law.
Speaker Nabih Berri has set a May 15 parliamentary session that would have the Orthodox Gathering proposal on its agenda for being the only plan that was approved by the joint parliamentary committees unless an agreement is reached on an alternative plan before that date.
Several blocs and independent MPs are likely to challenge it even if it was adopted by parliament, which will bring the country back to the 1960 law that was used in the 2009 polls.
That law considers the qada as an electoral district and is based on the winner-takes-all system. But most parties have rejected it despite their failure to reach consensus on a new plan.
The Free Patriotic Movement, the Lebanese Forces, the Phalange party and the Marada movement had announced so-called Orthodox Gathering proposal as their choice for a new vote law. But last month, the rival Maronite leaders decided to suspend their proposal in a bid to give different groups a chance to agree on an alternative law.
They however declared the 1960 election law as "dead and buried" and pledged not to run for elections under it.
Agencies