Berri sets May 15 for Parliament to discuss electoral law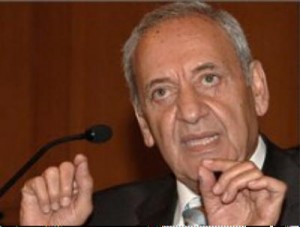 Lebanon Speaker Nabih Berri called for a parliamentary session on May 15 that will kick off at at 11:00 a.m to discuss the adoption of a new electoral law.
Berri had previously set a May 15 parliamentary session that would have the so-called Orthodox Gathering proposal on its agenda for being the only plan that was approved by the joint parliamentary committees unless an agreement is reached on an alternative plan before that date.
He reiterated during his weekly meeting with lawmakers that he would call for a vote on the proposal during the session.
But several blocs and independent MPs are likely to challenge it even if it was adopted by parliament, which will bring the country back to the 1960 law that was used in the 2009 polls.
According to sources the proposed hybrid law that that combines the current winner-takes-all system and the proportional representation system as proposed in the so-called Orthodox Gathering proposal may be also presented for a vote dut=ring the session.
Beirut Maronite Bishop Boulos Matar has reportedly been tasked by Bkirki to promote this hybrid electoral law.