Israeli airstrike in Syria aimed at Iran, report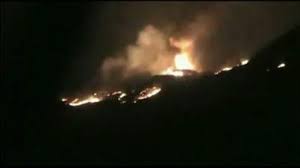 Beirut, Lebanon – From Israel's perspective, its airstrikes near Damascus were more about Iran than Syria: Tehran's shipment of guided missiles destroyed in the weekend attacks would have posed a potent threat had the weapons reached Iranian proxy Hezbollah in Lebanon.
While Israel says it has no interest getting involved in the Syrian civil war, it could find itself drawn into the conflict if Syrian leader Bashar Assad's Iranian patrons continue to use his territory to ship arms to Hezbollah.
Repeated Israeli strikes would almost certainly prompt Syrian retaliation, yielding a nightmare scenario in which Israel finds itself in a Syrian morass teeming with jihadi rebels, sectarian hatred and chemical weapons.
(More: Strikes on Syria Signal an Emboldened Israel)
For the West, it offers another compelling argument that the Syrian war must somehow be brought to an end.
Since the uprising in Syria began in March 2011, Israel has carefully avoided taking sides.
At the same time, Prime Minister Benjamin Netanyahu has repeatedly declared a series of red lines that could trigger Israeli military intervention, including the delivery of "game-changing" weapons to Hezbollah.
The first test of this policy came in January when an Israeli airstrike in Syria destroyed a shipment of advanced anti-aircraft missiles bound for Hezbollah, according to U.S. officials.
Israel and Hezbollah fought an inconclusive monthlong war in 2006 and are bitter enemies.
When Israeli intelligence determined last week that sophisticated Iranian-made Fateh-110 missiles had entered Syria, the military prepared to strike again.
Although Israel has not officially confirmed the operation, a senior official said a first airstrike at a Damascus airport early Friday destroyed most of the shipment, while a series of subsequent airstrikes on nearby locations Sunday took out the remnants of the missiles. The official spoke on condition of anonymity because he was not authorized to discuss a covert military mission.
Residents in Damascus said they felt and heard several huge blasts before dawn Sunday. Radwan Midani, a 25-year-old office assistant, said he "saw the sky light up."
Midani and others in the Syrian capital said they were more concerned about random mortar attacks by the rebels on their areas than Israeli strikes.
The rebels' weapons are less accurate than Israeli missiles, said Fadi, a 29-year-old businessman who would not give his last name for fear of repercussions for talking to the foreign media.
While also less concerned about the Israeli strikes, "it's very disgusting to have the Israeli mess around with our country's sovereignty," he said in a phone interview.
Assad's regime has tried to portray the rebels as traitors engaged in a foreign-led conspiracy. Syrian officials stepped up those claims after Sunday's strikes, alleging the opposition is cooperating with Israel.
The Israeli attacks pose a problem for those trying to topple Assad because ordinary Syrians might be convinced that there is something to the regime claims, said Elizabeth O'Bagy of the Institute for the Study of War, a Washington think tank.
"The idea of the conspiracy of Israel working with the opposition becomes that more real," she said.
The Britain-based Syrian Observatory for Human Rights, an anti-regime group, said at least 42 Syrian soldiers were killed in Sunday's strike, citing information from military hospitals.
The Syrian government has not released a death toll, but Syrian state media have reported casualties in Sunday's strike, Israel's third into Syria this year.
Syria and Iran have hinted at retaliation, though they took no action Monday and the official rhetoric has been relatively mild. There also were no new reports of Israeli airstrikes in Syria.
Iranian Foreign Minister Ali Akbar Salehi warned that Israel was "playing with fire" because of the weekend attacks, suggesting that its proxies such as Hezbollah could launch attacks in retaliation.
Russian Foreign Minister Sergey Lavrov voiced concern Monday, speaking by telephone with his Syrian counterpart, Walid al-Moallem. Russia's Foreign Ministry said Lavrov called for restraint and emphasized the need to respect Syria's sovereignty and territorial integrity
In launching the strikes, Israel took a gamble that Assad and his allies Iran and Hezbollah do not want to open a new front while preoccupied with the survival of his regime.
Israel moved quickly to reduce tensions. In a sign of "business as usual," Netanyahu traveled Monday to China for a previously scheduled trip.
Tzachi Hanegbi, a lawmaker in Netanyahu's Likud Party who is close to the prime minister, said Israel is trying to avoid "escalating tension with Syria."
"If there is activity, then it is only against Hezbollah, and not against the Syrian regime," he told Israel Radio.
During the 2006 war, sparked by a deadly Hezbollah cross-border raid, the militant group fired some 4,000 rockets into Israel.
Israel believes Hezbollah has restocked its arsenal with tens of thousands of rockets — albeit unguided, but some putting Tel Aviv within range.
The rockets destroyed over the weekend could have posed a greater threat, Israeli officials say.
The Fateh-110s have advanced guidance systems that allow them to travel up to 300 kilometers (200 miles) with great precision. Their solid-fuel propellant allows them to be launched at short notice, making them hard to detect and neutralize.
Israel has identified several other weapons systems as game changers that it cannot allow to reach Hezbollah, including chemical weapons, Russian-made Yakhont missiles that can be fired from land and destroy ships at sea, and Russian SA-17 anti-aircraft missiles. Israel's January airstrike is believed to have destroyed a shipment of the SA-17s.
Syria already possesses the SA-17s, and it is not clear whether Israel broke through Syria's air defenses in its recent airstrikes or fired missiles from Lebanese or Israeli airspace.
While Israel has tried to narrow the recent days' events to its conflict with Hezbollah, the airstrikes have shaken Israel's larger rivalry with arch-enemy Iran.
Alon Liel, a former Israeli diplomat involved in past back-channel talks with Syria, said the Israeli airstrikes were a message to Iran, not Syria. "We don't want to see Iran controlling the area," he said.
Yet all sides have strong reasons not to escalate.
Israel is already preoccupied with trying to halt Iran's alleged nuclear weapons program, while containing Hamas militants in Gaza, jihadists in Egypt's Sinai and Hezbollah to the north.
The Syrian army, while far weaker than Israel's, still possesses advanced missiles, an air force and chemical weapons. Various militant groups battling Assad, including al-Qaida-backed jihadists, might also enter the fray and turn their weapons toward Israel.
Aram Nerguizian, an analyst at Washington's Center for Strategic and International Studies, said he believes Hezbollah does not want to get involved in a war with Israel because that would undermine the militia's efforts to try to save the Syrian regime.
Assad's continued rule is seen as vital for Hezbollah's own survival, in part because Syria has been the conduit for Iranian weapons to Hezbollah.
Hezbollah is increasingly involved in the Syrian civil war, sending forces to fight Syrian rebels. However, if Hezbollah were to retaliate for the Israeli airstrike, it would have to divert some of its forces from Syria.
Israel "took a calculated risk that Iran and Hezbollah are committed in Syria," Nerguizian said. Hezbollah has not commented on Israel's weekend airstrikes, another indication that the militia might be holding back.
The latest tension come as Washington considers how to respond to indications the Syrian regime may have used chemical weapons in its civil war. President Barack Obama has described the use of such weapons as a "red line," and the administration is weighing its options.
The White House asserted Monday that it's highly likely the regime, not the rebel opposition, was behind any chemical weapons use in Syria.
White House spokesman Jay Carney spoke after a member of a U.N. panel investigating alleged war crimes and other abuses in Syria said there were indications the rebels, not the regime, used the nerve agent sarin.
The panel later distanced itself from the claims by Carla Del Ponte, saying it has no conclusive evidence about the alleged use of sarin.
The White House has not commented directly on Israel's airstrikes, but Carney said Israel has the right to defend itself.
A U.S. official said the Obama administration does not see a strike by Israel as upping the ante or forcing the president's hand.
No decisions have been made about arming rebel groups, and Israel's actions do not move up the timeline for making such a decision, said the official, who was not authorized to speak about security deliberations and spoke on condition of anonymity.
Time