Gemayel wants neutrality incorporated into the constitution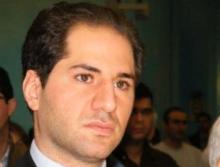 The Phalange Party revealed that it will propose incorporating the disassociation policy into the constitution so that parties would be legally bound to adhere to it.
"We have decided to present a proposal to amend the constitution by adding a paragraph to its preamble in order to adopt neutrality in regard to regional conflicts in a constitutional and legal way," Phalange Party bloc MP Sami Gemayel said on Tuesday.
He added that any party that does not respect this policy would be "punished by law."
Gemayel went on to state that his party will visit the leaders of the various parliamentary blocs next week in order to receive their signatures on this constitutional draft law.
The Phalange Party MP expressed concern over the participation of some Lebanese parties in the Syrian conflict, which he said "has started to spill over to Lebanon."
"The involvement of any party in the conflict may lead to the implication of other parties," Gemayel added.
Hezbollah has come under criticism for reportedly fighting on the side of the Syrian regime against rebels in the Al-Qusayr area and outside Damascus, with news outlets in the past weeks reporting that a number of party members had been killed while fighting in Syria.
Hezbollah's Secretary General Sayyed Hassan Nasrallah vowed in a televised address last week that "friends" of the Syrian regime would not allow it to fall and that his party would defend Lebanese Shiites residing in Al-Qusayr.
Now