Assad gave green light to attack Israel, report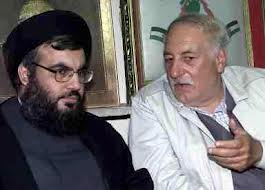 Syrian state TV announced on Tuesday that President Bashar al-Assad was activating Palestinian groups to retaliate against Israel.
Anwar Raja spokesman of the Damascus-based Popular Front for the Liberation of Palestine-General Command was quoted as saying that the regime has given "a green light" for the group "to attack Israeli targets" from the Syrian-controlled part of Golan Heights, Haaretz reported
Raja did not elaborate on how the alleged approval was conveyed to PFLP-GC fighters. The Palestinian official spoke to The Associated Press on Tuesday.
Most Palestinians in Syria remained on the sidelines of the 2-year-old conflict, but PFLP-GC has fought alongside government troops against the rebels trying to topple Assad.
A mortar shell fired from Syria landed in the central Golan Heights on Tuesday morning, near the border fence in Tel Fares. There were no reports of casualties or damage.
The IDF said it was most likely an errant shell fired by one of the sides battling in Syria. The United Nations Disengagement Observer Force (UNDOF ) stationed on the border has been notified.
Syrian Al-Ikhbariya announced that the Syrian government had given a green light to Palestinian groups to conduct "operations" against Israeli targets on the Golan Heights. Hezbollah-linked media, meanwhile, reported that Lebanon and Syria had established "popular committees" ready to fight Israel in the region.
The Kuwaiti daily newspaper Al Rai, quoting sources close to Assad as saying that the Syrian leader had used Russian backchannels to tell the Israelis that Damascus would react if Israel struck Syria again. Syria, they said, would consider any such act a declaration of war and would contemplate firing surface-to-surface and surface-to-air missiles at Israel.
Syrian sources told a range of media outlets that Damascus had deployed missile batteries aimed at Israel that could respond to any further Israeli actions.
Meanwhile, U.S. Secretary of State John Kerry is making his case to Russian President Vladimir Putin for Russia to take a tougher stance on Syria.
Kerry, who arrived in Moscow on Tuesday, is hoping to change Russia's thinking on Syria with two new angles: American threats to arm the Syrian rebels and evidence of chemical weapon attacks by the Assad regime.
Russia, alongside China, has blocked U.S.-led efforts three times at the United Nations to pressure Assad into stepping down.
U.S. officials are hoping Syria's behavior could shift Russia's stance.
"We have consistently, in our conversations with the Russians and others, pointed clearly to Assad's behavior as proof that further support for the regime is not in the interest of the Syrian people or in the interest of the countries that have in the past supported Assad," White House spokesman Jay Carney was quoted as saying.
Agencies
Photo: Hezbollah chief Hassan Nasrallah ( L) and PFLP-GC chief Ahmad Jibril in an undated  file picture.