Hundreds of Syrian families fleeing Banias after massacre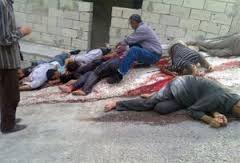 Hundreds of families were fleeing the Syrian city of Banias on Saturday, fearing new attacks after a "massacre" in a nearby Sunni village of Bayda, activists say.
"Hundreds of families are fleeing Sunni neighbourhoods in Banias in fear of a new massacre," Syrian Observatory for Human Rights director Rami Abdel Rahman was reported as saying.
Opposition slams massacre
THE Syrian opposition has denounced a "large-scale massacre" by troops and militiamen in a Sunni village in the northwest after a watchdog said at least 50 people, mostly civilians, were killed.
The Syrian National Coalition called for international action, citing witness reports of civilians being stabbed to death in Bayda, a Sunni village outside the port of Banias.
"The Coalition calls on the Arab League and the United Nations to act rapidly to save the civilians of Bayda, Banias and other villages across Syria," a statement said on Friday, accusing the regime of "war crimes and genocide."
"Several sources in the village say at least 50 people were killed in summary executions and shelling in Bayda village," a southern suburb of the Alawite-majority city, Syrian Observatory for Human Rights chief Rami Abdel Rahman told AFP on Thursday.
He was speaking after fierce clashes erupted in the area.
An Observatory statement said some people "were summarily executed, shot to death, stabbed or set on fire."
Regular forces were supported by pro-regime "shabiha" militiamen, added the statement from the Observatory, which relies on a network of activists and medics on the ground for its information.
"Dozens of civilians from Bayda have gone missing, and we don't know whether they have been arrested, killed or fled," said Abdel Rahman.
Banias, along with Daraa in the south, the cradle of the uprising, saw some of the first demonstrations against the regime in March 2011.
The United Nations says that at least 70,000 people have been killed in the conflict that is now in its third year.