Geagea and Aoun discuss electoral draft law, Katicha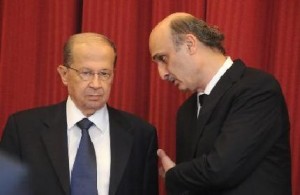 Retired General Wehbe Katicha, who is presently a consultant of the Lebanese Forces announced on Saturday that the LF leader Samir Geagea tackled in a phone call with Change and Reform leader MP Michel Aoun the electoral draft law.
Katicha said during a phone call with LBCI's Nharkom Said TV Show that the Lebanese Forces party is facilitating the task of Prime Minister-Designate Tammam Salam in forming a new government.
Katicha accused March 8 alliance of hindering the formation of new government and the drafting of an electoral law, LBC reported
Earlier today Al-Akhbar newspaper that the telephone call took place at a time when Bkirki is seeking an agreement on a vote law between the four main Maronite leaders in Lebanon, which include Aoun, Geagea, Phalange Party leader Amin Gemayel, and Marada Movement chief MP Suleiman Franjieh.
The Bkirki efforts are focusing on the hybrid electoral law proposed by Speaker Nabih Berri that combines the winner-takes-all and proportional representation systems, the report added