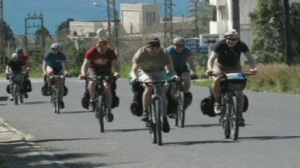 The Lebanese Internal Security Forces Information Branch arrested in recent days the main suspect wanted  in the 2011 kidnapping of seven Estonians in the Beqaa valley, according to local reports
Hussein al-Hojeiri was arrested in the Beqaa after a difficult pursuit, the report added.
According to the report  Hojeiri confessed  during investigations  that an official from  Al-Qaeda in  Iraq had asked him to abduct the Estonians.
He also admitted he was behind the March kidnapping of Hussein Jaafar. Jaafar's abduction on the outskirts of Arsal triggered tit-for-tat kidnappings between his clan and residents of Arsal. Jaafar was released in April in an exchange of captives.
Hojeri also confessed to having killed Information Branch personnel Rashed Sabri and Elias Nasrallah who were chasing him in April 2011 in Western Bekaa.
Seven Estonians were kidnapped in Lebanon on March 23, 2011 as they entered the country in the Beqaa from Syria on a bicycle tour. They were released in July 2011.
The abductors—believed to be a previously unknown fundamentalist group called Haraket Al-Nahda Wal-Islah (Movement for Renewal and Reform)—had reportedly demanded ransom in exchange for the release of the Estonians.
Lebanon in April 2012 indicted 29 suspects—9 of whom were in custody—over their role in the kidnapping.
This error message is only visible to WordPress admins
Error: No connected account.
Please go to the Instagram Feed settings page to connect an account.