Russia envoy meets with Hezbollah; says Geneva plan only path to end we in Syria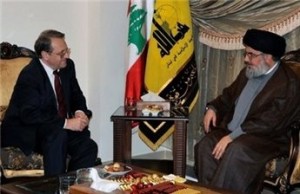 The Geneva plan to establish a transitional government in Syria is the only way to end the country's conflict, Russian Deputy Foreign Minister Mikhail Bogdanov said in Lebanon on Sunday.
The Geneva communique agreed on in June 2012 is "the basis, without any alternative, for political regulation of the Syrian crisis," Bogdanov was quoted as saying by ITAR-TASS news agency at the end of a trip to Lebanon.
The initiative calls for an immediate end to the bloodshed, urging the establishment of a transitional governing body, but does not call for President Bashar Assad to step down.
"The sense of this document, on the basis of which we build our work, is about establishing broad national dialogue between Syrians in order for them to decide the fate and future of their country themselves," Bogdanov said.
"Our task is to actively help them with this and encourage agreement."
The Geneva plan has never been implemented, and was criticized by the Syrian opposition for failing to call for Assad's departure.
But Russia, which backs Assad's regime against the uprising that began in March 2011, has clung to the plan as a roadmap for a political resolution to the conflict, which has killed more than 70,000 people.
Bogdanov's trip to Lebanon included meetings with various top government officials, as well as the opposition March 14 movement. On Saturday night, he held talks with Hezbollah chief Hassan Nasrallah, the Shiite movement said.
The pair "reviewed the situation and political developments in the region, particularly in Lebanon and Syria," the group said in a statement.
Hezbollah is a long-standing ally of the Syrian regime and has backed Assad against the uprising, even dispatching its members to fight alongside regime troops in the central province of Homs.
The group's support for Assad and involvement in the conflict has raised tensions in Lebanon, where the Sunni-led opposition backs the Syrian uprising.