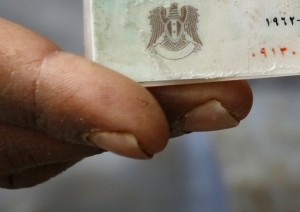 Eight Syrians – kidnapped by a Lebanese tribe in an effort to get one of its own members released from captivity – were released Saturday.
The Syrians, all Alawites, were abducted April 1. The Ahmad tribe carried out the kidnapping, hoping to win the release of Mohammad Hasan al-Ahmad, who remains in Syria.
About 12 percent of the Syrian population is Alawite Muslim, and President Bashar Assad is part of an elite Alawite group that has governed the country for half a century.
His father, Suleiman, asked Lebanese officials to help get his son back.
It was unclear who abducted him, but he remains in Syria.
"Our son was kidnapped after they lured him across the border," he said. "He has no history of violating security in Lebanon or in Syria but only of blackmailing for money."
Mohsen al-Ali, one of the kidnapped Syrians echoed Suleiman's call for his son's release. He said he and his colleagues were treated well.
"We were dignified guests of Ahmad's family," he said.
The release occurred after a meeting at the house of tribal leader Ali Ahmad with Brig. Gen. Amer al-Hasan, the head of military security in northern Lebanon.
UPI