Transgender victim speaks out on being sexually abused by Lebanese officials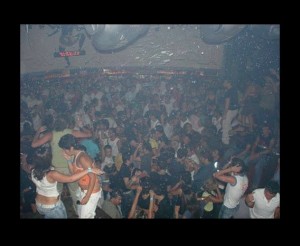 "I was standing outside the nightclub with my friends when I was ordered by [municipality] police to get into the car, with no legal order" one of the transgender revelers harassed Saturday night at Dekwaneh club Ghost said, on condition of anonymity. She said she was taken into a room where she was abused both verbally and sexually by municipality head Antoine Chakhtoura's deputies.
"They hit me and pushed me around and insulted me by using derogatory terms like 'faggot' and 'half-a-man,' then they asked demeaning questions such as how much do I make per hour and whether I enjoy 'sucking on it,' then asked me to strip naked and then took photographs of me."
Lebanese activists and experts believe Chakhtoura's actions have set a dangerous precedent whereby the Lebanese official can apply his own conception of justice as Lebanese law.
Among those who were arrested late night Saturday were three gay men and a transgender person. Each were forced to undress in front of Chakhtoura's policemen, under his order, so they could determine their gender.
Following Saturday's events, in an interview with the Lebanese television station LBC, Chakhtoura admitted that the detained were undressed, saying "Of course we made them take off their clothes, we saw a scandalous situation and we had to know what these people were. Is it a woman or a man? It turned out to be a half-woman and half-man and I do not accept this in my Dekwaneh."
In an interview with NOW, Chakhtoura defended his actions saying "It is not my business what gender they decide to be, but they were violating moral codes of conduct and were taking drugs and it is my duty to put an end to it."
However, the transgender person emphasized that she had no drugs in her possession and has asked the forces to give her a blood test to check for the viability of the accusations. Her requests have gone unanswered.
As for the sealing of the night club, Chakhtoura stressed to NOW that he believes it endorses sexual activities inside and outside its premises, and promoted the trafficking of drugs and "drunken" behavior. He also claims that his actions are justified by Article 74 in the municipal law code.
Ghost nightclub's management has condemned the municipality's accusation, stressing to NOW that the accusations against them are false and that the raid had no prior warning.
The manager, who also preferred to remain anonymous, explained that Chakhtoura came to the location and accused him of drug trafficking and prostitution, and when he was given the freedom to look into his accusations Chakhtoura replied "No, I don't want to check, I want this place to be shut down."
"I refused to close down," then he walked out saying "but you have gay men in here." Soon after, twelve of Chakhtoura's policemen entered the nightclub, bullied customers out, and turned the music off. As of Monday afternoon, Ghost nightclub was sealed by order of the municipality, a note visible on its door with the names of the 4 persons who had been detained.
Lawyer and human rights activist Nizar Saghieh explained that the head of the municipality, in his actions, surpassed the relevant legal institutions and should thus be held legally accountable.
"By law, he is only allowed to gather the information needed and file a complaint to the public prosecution office. He has no right to take the decision on his own. His raid is illegal," stressed Saghieh.
Until now, the club's management has not filed a law suit against Chakhtoura and is waiting for the prosecution office to issue its own order, because they strongly believe Chakhtoura's case is personal.
"Clearly, he has personal issues with homosexual men because this is not the first time these harassments take place, his men have been detaining passersby for over 6 months now," the manager added.
Charbel Maydaa, the director of Helem, an NGO whose mission is to defend gay rights, confirmed the above allegations and explained that the organization has been monitoring the nightclub since they learned of the recurrent harassment and abuse of gay men and transgender people. Maydaa told NOW that customers near the nightclub are frequently exposed to abuse because of their appearance, and that Sunday's victims were taken to the police municipality in the trunks of police cars.
Saghieh added that the municipal police's detainment of customers is also illegal and should be looked into urgently because it is a clear violation of the constitution.
"They have no right to question subjects in any case; it is the judicial police jurisdiction and that is, if there was a crime at hand, but there isn't one, transsexuality is not a crime, there is no legal finding to support it anywhere."
Saghieh emphasized that if the subjects decide not to pursue a case, then it is the lebanese civil society's duty to address the issue as quickly as possible.
"This is a crime and Chakhtoura admitted to it publicly. Lebanese civil society should file a complaint against him at the public prosecution office."
"This is very dangerous. He is forcing his own values, considering anything against them a crime, then punishing the wrong-doers. This should not be accepted," said Saghieh.
Now Lebanon