US targets major drug cartel: Hezbollah
By Jay Solomon The Obama administration charged Hezbollah with operating like an international drug cartel and blacklisted two Lebanese money-exchange houses
By Jay Solomon
The Obama administration charged Hezbollah with operating like an international drug cartel and blacklisted two Lebanese money-exchange houses for allegedly moving tens of millions of dollars of drug profit through the U.S. financial system on behalf of the militant group.
The Treasury Department's action Tuesday marked the latest salvo in a two-year U.S. government campaign against Hezbollah's alleged drug-trafficking activities.
U.S. officials alleged that Hezbollah is using proceeds from this narcotics trade to fund international terrorist activities and to bolster the forces of Syrian President Bashar al-Assad in their fight against a widening political rebellion.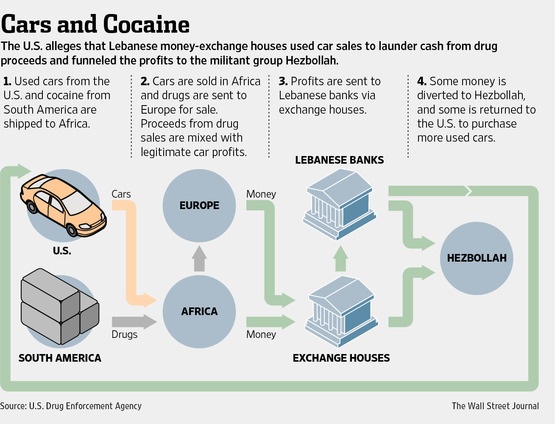 U.S. officials also said Hezbollah is increasingly reverting to illicit trade to offset diminished funding coming from Iran, the organization's closest ally.
"Hezbollah is operating like a major drug cartel," said Derek Maltz, a special agent for the Drug Enforcement Administration, who is overseeing the U.S. probe into Hezbollah. "These proceeds are funding violence against Americans."
Bulgaria's Interior Ministry concluded that Hezbollah operatives conducted last year's bombing of a tourism bus at a Black Sea resort that killed five Israeli nationals. The European Union is considering imposing broadsanctions on Hezbollah as a result.
Hezbollah has repeatedly denied any involvement in narcotics trafficking or terrorism. It has accused the U.S. of spreading propaganda to discredit the Lebanese organization.
The Treasury Department in 2011 named the Beirut-based Lebanese Canadian Bank as a major facilitator for a drug-trafficking scheme it said originated in Latin America and West Africa but involved laundering proceeds through the U.S. financial system via the purchases of used cars.
Hezbollah received much of the profit from this illicit business, U.S. officials charged.
In response to the U.S. charges, the Lebanese Canadian Bank was shut by Beirut's financial regulators. But Treasury and DEA officials said Tuesday that two money-exchange houses replaced the bank in conducting illegal wire payments through the U.S. financial system on behalf of Hezbollah and a Lebanese drug trafficker who U.S. officials allege to be coordinating with the militant group.
The alleged trafficker, Ayman Joumaa, is a joint Lebanese and Colombian national who the U.S. charges with trafficking tens of thousands of kilograms of cocaine from Colombia to Europe, West Africa and Latin America. The U.S. believes he works with both Hezbollah and the Mexican drug cartel, Los Zetas. Attempts to reach him in recent years have been unsuccessful.
U.S. officials are particularly worried about the operations of money exchange houses in Lebanon and the broader Middle East because of their focus on moving bulk cash and the fact they are less regulated than banks.
One of the exchange houses, Kassem Rmeiti & Co. for Exchange, moved nearly $30 million in drug proceeds through the U.S. since 2008, according to Treasury and DEA officials. The company's owner, Haitham Rmeiti, has also emerged as "a key facilitator for wiring money and transferring Hezbollah funds," the Treasury and DEA said.
The second exchange, Halawi Exchange Co., meanwhile, was facilitating the shipment of more than $220 million of used cars, which originated in the U.S., into the West African country of Benin last year as part of the same drug-trafficking operation, U.S. officials alleged.
"Following Treasury's action against the Lebanese Canadian Bank, the Joumaa narcotics network turned to Rmeiti Exchange and Halawi Exchange to handle its money-laundering needs," said David Cohen, the Treasury Department's top counter-terrorism official.
Attempts to reach officials at the Halawi and Rmeiti exchange houses Tuesday in Beirut were unsuccessful.
The U.S. Treasury named both exchange houses as "primary money laundering concerns" under the U.S. Patriot Act. This determination could result in both firms being banned from the U.S. financial system, and their dollar-based assets frozen, unless they provide evidence to Treasury over the next 120 days to reverse the decision.
Lebanon's central bank governor, Riad Salameh, said in an interview Tuesday that Beirut's financial regulators had independently been scrutinizing the businesses of both exchange houses.
Rmeiti's case is being handled by Lebanon's general prosecutor, Mr. Salameh said, while Halawi's business is being monitored by the central bank's Special Investigation Commission.
"We are doing, first of all, the oversight on our own initiative because there are rules and laws and regulations that the money-exchange houses need to abide with," Mr. Salameh said. "We are cooperating and will continue to cooperate in a sincere and firm way with the U.S. Treasury."
Lebanon has emerged as a key, and complicated, front in the U.S.'s financial war against Iran, Syria and Hezbollah—allies who refer to themselves as being part of a "resistance axis" against the U.S.
Hezbollah have served in recent Lebanese governments and is the most powerful military actor in Lebanon. But the U.S. has also worked closely with Lebanon's army, police and financial regulators to try to contain Hezbollah's influence in Beirut and to curtail Iranian and Syrian clout in Lebanon.
U.S. officials have pressed Mr. Salameh in recent years to move aggressively against Hezbollah, but they have also been wary about upsetting Lebanon's banking system, which has historically been one of the Arab world's most important.
Mr. Cohen on Tuesday stressed that the Treasury's action against the exchange houses "wasn't an indictment of the Lebanese financial system as a whole."
Still, he stressed that the Treasury had "concerns about the adequacy of the supervision" of Lebanon's money-change houses.
Mr. Salameh said Lebanon has roughly 400 such exchange houses that conducted $1.5 billion in transactions last year. Lebanon's central bank governor said his government has increased the capital requirement for these firms in recent years and required new training guidelines for their staff.
"We are always following up on exchange houses," he said.
Wall Street Journal