Jumblatt optimistic on electoral law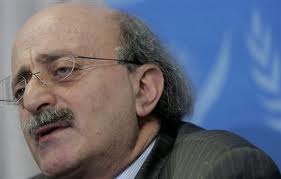 Progressive Socialist Party leader MP Walid Jumblat noted on Monday the emergence of positive signs that the political powers may reach an agreement over the hybrid parliamentary electoral law.
He said in his weekly editorial in the PSP-affiliated al-Anbaa website: "We renew the party's readiness to exercise the necessary flexibility to bolster the chances of reaching an agreement over a new law."
In addition, he said that the PSP is prepared to return to the national dialogue in order to reach this agreement and "get rid of the law of fragmentation that is the Orthodox Gathering proposal."
The MP stated that an electoral law should help unite the Lebanese people, not deepen the divide between them.
The electoral subcommittee is set to convene on Tuesday, its third meeting since it resumed sessions last week in a last-ditch effort to agree on a controversial vote law.
Discussions had focused on the hybrid law that adopts the winner-takes-all and proportional representation systems.
Addressing efforts to form a new government, Jumblat hailed Prime Minister-designate Tammam Salam's consultations, while praising his "refusal to begin debates over the distribution of portfolios."
"We look forward to powers assisting Salam in his mission in order to lead Lebanon to a new political phase that would be marked by stability," he continued.
Commenting on his recent trip to Northern Ireland, Jumblat wondered whether it would be possible to implement the Irish example in Lebanon regarding the disarmament of armed groups.
He highlighted the principles of "Talk, Respect, Trust, and Patience" that helped the country overcome years of strife.
"Is it possible for Lebanon to reach a phase where these principles are implemented in our political rhetoric instead of the accusations of treason and defamation?" he asked.
"It is true that the Irish example differs from the nature of the Lebanese conflict, but it does offer evidence that political and historic settlements, no matter how painful they can be, are also not impossible," he remarked.
Naharnet