Assad pleased with nomination of Lebanon's PM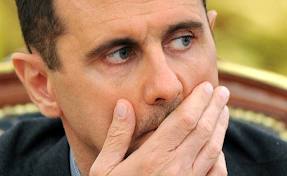 Syrian President Bashar Assad has allegedly criticized Lebanon's policy of dissociation from the Syrian war and hailed the nomination of Prime Minister-designate Tammam Salam.
"How could someone dissociate himself if he was in the circle of fire and the blaze was approaching him?" Assad allegedly wondered.
"I don't understand what this policy means. Is it meant to transfer Lebanon to the African continent and keeping it there until the Syrian crisis ends?" a delegation from Lebanese pro-Syrian parties that visited Assad in Damascus quoted him as saying.
Lebanese authorities have officially followed the policy to distance the country from the Syrian conflict. But they have also been reluctant to publicly blame either regime forces or rebel fighters for fire hitting villages and towns near the border with Syria.
The Syrian civil war erupted in March 2011 when peaceful demonstrations against the regime turned violent after troops loyal to Assad quelled them by using force.
The war continues to take a heavy toll on civilians. More than 5 million Syrians have fled their homes because of the relentless fighting, seeking shelter in neighboring countries or in other parts of Syria where the violence has temporarily subsided.
During his meeting with the delegation, Assad allegedly discussed with the recent appointment of Salam as PM-designate without mentioning him by name.
"Ancient nationalistic families should return" to the Grand Serail, the delegation quoted him as saying.
Salam, a 67-year-old Beirut MP, is the son of former Prime Minister Saeb Salam, who had served six times as prime minister between 1952 and 1973.
Saeb Salam was known as a staunch Arab nationalist and is remembered for saying "one Lebanon, not two."
The PM-designate's grandfather was also a deputy in the Ottoman parliament and a nationalist figure during the French colonial mandate.
"In Lebanon, we care for the people who still hold onto the special relations with Syria," the delegation quoted Assad as saying.
He also allegedly lauded Free Patriotic Movement leader MP Michel Aoun, Marada movement chief lawmaker Suleiman Franjieh and Maronite Patriarch Beshara al-Rahi.
"Those leaders have a nationalistic spirit, a broad vision and deep thoughts," Assad said.
Naharnet