Earthquake rocks UAE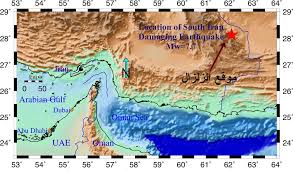 Residents woke up to a hazy but stable morning on Wednesday after the earthquake rocked the UAE on Tuesday afternoon for the second time in the month of April.
No more aftershocks are expected, the National Centre of Metrology and Seismology (NCMS) in Abu Dhabi has said in a statement.
Authorities are urging residents to remain calm after unconformed reports of aftershocks vent viral, fuelling further panic among those living in high-rises and skyscrapers in Dubai.
Some commercial buildings, including hospitals, and some residential buildings in Dubai, Sharjah and Abu Dhabi were evacuated right after the remors of the quake were felt at 2.44pm UAE time (10.44GMT).
Neighbouring state of Qatar had officially warned its citizens to expect aftershocks later on Tuesday. Residents in the UAE were told to vacate buildings if aftershocks strike.
The NCMS confirmed to Emirates 24|7 that the epicentre of the quake was some 650km off the coast of Ras Al Khaimah.
A spokesperson said: "The earthquake occurred near the Iran-Pakistan border, 650km northeast of Ras Al Khaimah, and approximately 30km underground. It happened at 2.44pm [10.44am GMT]."
The magnitude of the earthquake that struck Iran was 7.8 on the Richter scale, and tremors from the strong quake were felt here in the UAE.
The NCMS spokesperson said: "Due to the UAE's [proximity] to Iran, we felt the intensity of the tremors here. If we were to rate the impact that we felt here, it would range between 4 and 5 on the Richter scale."
He continued: "Residents of Ras Al Khaimah and Fujairah would have felt it on the higher side due to the proximity to Iran. Meanwhile, those in Abu Dhabi would have felt it lesser."
Quizzed whether there could be more aftershocks, he said: "We cannot predict whether there will be another earthquake. We can just hope and pray there isn't."
Reports of tremors in Dubai came in from across the emirate, with Emirates 24|7 reporters and readers all writing in with their experiences.
Tremors were reported from Garhoud, Silicon Oasis and Sharjah Airport Free Zone.
Staff and patients at the Al Garhoud Private Hospital rushed out after feeling the building vibrant beneath their feet.
"It was surreal. I felt the ground moving so badly," said a patient. Soon, staff and outpatients took the stairs out of the building with the fire alarm blaring in the background.
"We felt the tremors and many of our staff rushed out," added a manager from Sharjah Airport Free Zone.
A resident of silicon oasis also reported it. "It is very scary. I picked my child and ran out," said Lakshmi.
Meanwhile, a BBM message started doing the rounds half-an-hour after the first jolt, causing panic among UAE residents.
The message reads: 'Guys, as the news says on the Dubai channel, the earthquake was in Iran by 8 degrees and it reached here in UAE at 1.2. And there will be another one in half an hour. We made sure by calling accuweather people. Please exit your homes. Especially if you live in higher floors. [sic]"
Such rumours of an aftershock led to a number of Dubai buildings being re-evacuated although there were no reports of any aftershocks. Authorities refuted such claims and urged residents to remain calm but vigilant.
Tremors of the strong quake were felt across the Gulf region, as well as in Pakistan and India.
There have been also been reports of earthquake in different cities of Pakistan, India and Latin America.
Buildings evacuated
People were seen standing outside their buildings fearing aftershocks.
Jebel Ali, Sheikh Zayed Road and Emaar Square all seeing crowds under the building after the first earthquake.
According to reports, Al Garhoud hospital has been evacuated also, along with buildings in Jumeirah Lake Towers and Dubai Marina; meanwhile, Dubai Airport Free Zone has also reportedly told its panicked staff to go home.
Eyewitnesses said MBC office in Dubai Media City has also been evacuated after the tremors.
Although people were tweeting about Burj Khalifa being evacuated, a resident confirmed to Emirates 24|7 that nothing such had happened.
"A minor tremble was felt, but there was no evacuation or damage to the tower," a resident who stays on the 92nd floor of Burj Khalifa said.
There have also been reports of mobile phone lines going down. Etisalat mobile phones also stopped connecting temporarily because of network overload.
Dubai Airports has confirmed services are operating as normal.
A spokesperson said: "Passenger operations unaffected by tremors in the UAE. Also, no damage to facilities has been reported in wake of the earthquake."
In Abu Dhabi, thousands of residents rushed out of their buildings and some of them were carrying their children and appeared panicking.
"It was really heavy… we all felt it… the building kept shaking for more than five seconds," said an Indian resident of Defence Road in Abu Dhabi.
Crowds of people were also seen standing outside buildings at around 14.45pm in other areas of the capital. Residents in ground floors and low levels said they did not feel any quake.
"I was on my laptop at the 11th floor when I saw the door shaking and the chain on the lock swinging… I then felt the shake… I really panicked as it was the first time I feel a tremor," said Ayman Hariri, who sounded nervous as he sat on the ground outside his building.
Stronger than last week
That the quake was stronger than last week's tremors was agreed upon by everybody. People in offices spoke of shaking chairs and tables.
"I am on the 6th floor of my building, and everything started shaking. I got panicked. I walked down the stairs and everything turned blue in front my house. I thought the building would collapse on top of me," said Kinana Homsi-Mardini (27) from Syria, who works in Tecom.
This time most buildings were immediately evacuated. "Last time we did not move. But now we were all told to evacuate. And now we are told to move away from the building," said a Damac employee in Downtown while standing outside.
"My chair and table started shaking. This was a much stronger quake than last time. It was very obvious," said Lesley (29) from the Philippines, after she evacuated from Atrium Tower.
"For most of us it was the first time to experience an earthquake. It is quite shocking," said Hassan (55) from Sudan, evacuated from the same building.
Lina Vasili wrote: "The earth stopped shaking but my fingers haven't."
Emmanuel Dunseath wrote: "First time I actually feel an earthquake in the UAE. Office evacuated and back to it now. Hope no-one is hurt in Pakistan and Iran."
Nilanjana Ghosh wrote on E24|7's Facebook page: "Experienced the worst tremor of my life today. Earthquake shook the buildings like a swing in the park. I pulled my fast asleep child out of bed and ran barefoot. I was praying for survival till we reached the open space, the park, outside. I hope everybody is fine."
Sahar Samir wrote from Fujairah: "Here in Kalba Fujairah our flat started shaking and kids got scared and started crying."
GCC feels the tremors
The tremors were felt across the Middle East, with reports coming in from Qatar and Bahrain also.
Rachel Morris said she felt tremors in Doha, saying: "Just felt another tremor in Doha, at Medical City."
Meanwhile, Namit Bhatia from Bahrain said that Al Seef area in Manama was heavily congested with crowds taking to the streets.
He added: "People have evacuated office building in Al Seef area, and traffic on the roads is very high as people are probably trying to get home to loved ones."
24/7