Explosions rock Boston Marathon, several injured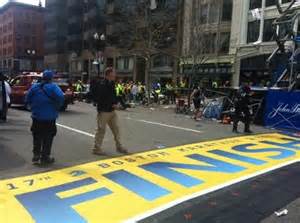 A pair of explosions rocked the finish line at the Boston Marathon on Monday afternoon, injuring at least a half-dozen people, a CNN producer at the scene said.
The blasts occurred a few seconds apart, shrouding downtown Boston's Copley Square in smoke. Paramedics were treating several victims at the scene, and police ordered onlookers to back away from the area, CNN Producer Matt Frucci reported.
The explosions occurred about 2:45 p.m., about an hour after the first runners had crossed the finish line, Frucci said.
CNN