2 more Lebanese killed by Syrian rockets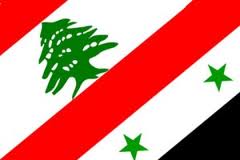 Two more Lebanese people were killed and five others were wounded when more rockets were fired on Sunday from Syria and landed in the Bekaa towns of al-Qasr and Hawsh al-Sayyed Ali in the Hermel District .
"Ali Hasan Qataya was killed and four people were wounded, one critically, when shells fired from Syria hit the center of the Hermel town of al-Qasr," reported Lebanon's National News Agency.
Later on Sunday NNA added that 13-year-old Abbas Kheireddine was killed and another person was wounded when two rockets fired from Syria hit the Hermel town of Hawsh al-Sayyed Ali, NNA said.
LBCI television earlier said "a man from the Qataya family was killed and a man from the Jaafar family was wounded in shelling from Syria on the Bekaa town of al-Qasr."
On Saturday, rockets fired from Syria landed in al-Qasr and Sahlat al-Mayy in al-Hermel, OTV reported, as LBCI said four shells hit al-Qasr.
President Michel Suleiman issued a statement after the incident in al-Qasr, condemning the fire and adding that such spillover "has only led to the deaths of innocent Lebanese who have nothing to do with the ongoing conflict taking place outside their country."
The Lebanese army issued a statement on the cross-border violence. "This afternoon, the border town of al-Qasr in the Hermel border region came under artillery shell fire from Syrian territory, killing one citizen, injuring three others and damaging several homes," said the army's statement.
Naharnet