More Syrian missiles land in Lebanon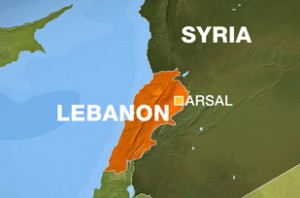 More Syrian missiles landed in Lebanon . One missile landed in the outskirts of the town of Al-Qasr and two others in the Sahlat al-Maa town in Lebanon's Hermel, The National News Agency reported on Saturday
NNA added that there were clashes taking place in the nearby Syrian territory.
The damage was only material with no casualties reported; however, the electricity network in the area was struck by the shelling.
Syrian troops have conducted a number of incursions into Lebanese territory, some of which have resulted in fatalities. Syrian armed forces have also been accused of kidnapping Lebanese nationals along the border.
Unjustified
Lebanese President Michel Suleiman said last Thursday that there are no reasons to justify the latest Syrian bombing of Lebanese territories. Syrian military helicopters fired five missiles on Wednesday evening on the Lebanese region of al-Ajram, near Bekaa's border town of Arsal. After meeting with army chief Gen. Jean Kahwaji, Suleiman said in a press release that "there are no justification or apparent reasons for the bombing."
The Lebanese president said that he had asked the Army Command to hand over "necessary related documents" to the Foreign Ministry, noting that the Syrian bombings "did not target military locations. " The two-year violence in Syria has increasingly spilled over into Lebanon, with cross-border shelling affecting northern and eastern Lebanon.
The Lebanese Foreign Ministry sent a memorandum to the Syrian embassy as per Suleiman's instructions.
In March, Suleiman denounced the Syrian airstrikes in Lebanese territories, but Damascus, in its first comments on the attacks, denied any involvement. In recent months, there have been reports of fighters and arms being smuggled into Syria via Lebanese territories. Syrian authorities have threatened to attack Lebanon if "terrorists" continue to infiltrate Syria from Lebanon.