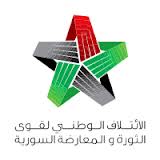 The White House is putting the final touches on a new package of non-lethal assistance to Syrian opposition forces that one official familiar with process described a "significant" increase in equipment – including night vision goggles and body armor – designed to enhance the rebels' fighting ability.
"We have approved additional assistance to the opposition," said the official, who spoke on the condition of anonymity because there were details to be worked out in terms of coordination and delivery of the aid. The official said that announcement could occur "in the coming days."
The official would not describe the amount of new aid or all its component parts, except to say it would meet humanitarian needs as well as non-lethal fighting needs. The U.S. has also stepped up efforts to help train Syrian fighters in Jordan. It was unclear if the new aid package would enhance these efforts.
The assistance will not include arms of war but could marginally increase the ability of rebel forces to fight round-the-clock and withstand superior fire power from the Syrian military. It will also include more aid to meet the needs of Syrian civilians displaced or living in fear of the bloody civil war.
President Obama foreshadowed the announcement of stepped aid during an Oval Office session with U.N. Secretary General Ban Ki-Moon.
"Obviously the humanitarian crisis has gotten worse," Mr. Obama said. "We are at a critical juncture. It's important for us to try to eliminate some of the carnage that's been taking place directed at civilians and non-combatants. And so we'll be strategizing about how the United States….can work together with the United Nations to bring about if not a full resolution to the crisis, at least an improvement for the people of Syria."
The New York Times first reported serious consideration of a new U.S. aid package to the Syrian opposition.
The U.N. Secretary General described the Syrian crisis as "a most troubling situation" and called on Mr. Obama and other leaders to provide "much more strengthened leadership."
CBS