Iraqi refugees in Syria have a choice between 2 bad options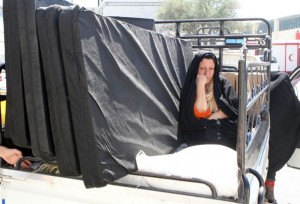 BEIRUT , Lebanon – As the conflict in Syria has raged over the past two years, the sectarian bloodletting, the car bombs and the rise of religious extremists have been all too familiar to one group of people in the country: Iraqi refugees.
According to government estimates, about 480,000 Iraqi refugees live in Syria, many of whom fled their country because of the same kind of indiscriminate violence that is spreading across Syria.
Now, these refugees must choose between two bad options: return to an unstable Iraq or hunker down in Syria and hope for the best.
Between last summer and the first months of this year, about 70,000 Iraqis headed back home, according to the United Nations High Commissioner for Refugees. In roughly the same period, as violence has flared in Iraq, about 41,000 Iraqis entered Syria.
The numbers indicate a seesaw movement of people caught between two countries wracked by vicious sectarian wars that are increasingly spilling over their borders.
"Refugees from Iraq share all the vulnerabilities and all the problems that Syrians are facing because of the conflict," said Reem Alsalem, a regional spokeswoman for UNHCR. "They are even more vulnerable because Syrians have at least some support from extended family members or tribe members or networks."
Although Iraqis have migrated to Syria for decades, the pace quickened dramatically during the peak of the Iraqi civil war between 2006 and 2009, when the Damascus government reported that about 2 million Iraqis were in Syria. Thousands of Iraqis also flooded into Jordan and Lebanon.
The UNHCR lists about 63,500 Iraqis who have formally registered as refugees in Syria, most living in cities rather than in camps. Some observers say the Syrian government's count of nearly a half-million Iraqi refugees in the country is inflated, driven by a desire to get more international aid.
The majority of refugees who arrived in recent years settled in Damascus, the capital, and brought with them all the trauma of the Iraq war: About 1 in 10 had been a victim of torture, according to the UNHCR. More than 60 percent of them were Sunni Muslims, according to U.N. figures, but a sizable community of Shiite Iraqis also settled in Sayyida Zeinab, a southern suburb of Damascus known for a prominent Shiite shrine.
The cost of living was relatively low in Syria, and children were allowed to attend school for free. But the Iraqi refugees were not allowed to work, effectively making the entire community either depend on aid from nongovernmental organizations or scramble for odd jobs that could bring a little pocket cash. Prostitution among Iraqi women in Syria soared at the time.
When the Syrian conflict spread, thousands of Iraqi refugees were trapped because they did not have the money to leave the country or move to safer neighborhoods.
"There are certain neighborhoods that are safer than others, and the rent in those neighborhoods has skyrocketed," said Becca Heller, director of the Iraqi Refugee Assistance Project, a nongovernmental organization that helps Iraqis with resettlement. "So refugees are literally being forced into battle zones because they can't pay the increasing rent in the safer areas."
'Same kind of misery'
One 47-year-old mechanical engineer from Baghdad escaped the fighting back home, like thousands of his fellow refugees, only to face similar danger in Syria.
Detained by U.S. forces in 2004 — wrongly, he says — and held for four years, the man fled to Syria with his wife and six children as soon as he was released.
The man, who spoke on the condition of anonymity to protect family members who remain in the Syrian capital, is a Sunni, and he chose to live in a southwest Damascus neighborhood where most of the residents were Sunnis.
When the uprising in Syria started, his life, like that of millions in the country, was upended. "We just escaped from the misery of Iraq, and we came to the same kind of misery," he said.
In late 2011, one of his three daughters was burned across the chest and arm in an explosion as she walked to school. A few months later, a sniper shot a woman in their apartment building when she opened her window.
Their neighborhood was regularly hammered by mortar rounds because it was seen as a base of support for the opposition. In early 2012, a mortar shells slammed into their building, killing the son of a downstairs neighbor.
The discussions in the neighborhood took on a more sectarian tone, the man said, with Sunni residents criticizing the Syrian government, which is led by members of the Alawite faith, an offshoot of Shiite Islam. It was a throwback to the dark days of the Iraqi civil war, which pitted Sunnis against Shiites, he said.
"In the beginning in Syria, we didn't have this sectarianism. This was the first time," he said.
He sent his eldest son to Belarus last summer to study and his eldest two daughters back to Iraq in December to live with relatives.
With no job in Syria, he moved to Turkey in search of work at the beginning of this year, leaving his wife and the remaining three children behind. His 16-year-old second son, once a star student, has quit school to work at a grocery store. He makes about 100 Syrian pounds, a little more than a dollar, per day.
"It's not easy," the man said in an interview on Skype. "Not everything is going well in my life, but I still have patience."
A 'long suffering'
Raad Youssef, an Iraqi Christian, said he escaped to Syria in summer 2009 with his wife and four children after being told by militants that Christians had no place in Iraq.
Youssef, 53, left behind his house and car repair business and settled in a predominantly Christian neighborhood in Damascus. It didn't take long before the family was surrounded by violence again.
"The same tragedy which we lived through in Iraq was repeating in Syria," Youssef said. "The same random shooting. The outlaws. Innocent people wounded and killed in the streets."
In August, Youssef decided that he had to get his family out, but he faced a tough question: Could his family be safe in Iraq?
He headed to Lebanon instead and settled in a Christian neighborhood north of Beirut. He works in a factory manufacturing plastic bags while two of his children work at a supermarket. The family members receive aid from nongovernmental groups and local churches, but they are hoping that their application for asylum in the United States will come through.
"That would end our long suffering and life in fear," Youssef said.
Photo: An Iraqi refugee sits in a pick-up truck with her ration in Damascus, Syria, in this photo from 2008. With Syria at war, the Iraqi refugees must choose between returning to an unstable Iraq and hunkering down in Syria.
Washington Post