Gemayel pledged to support Salam's mission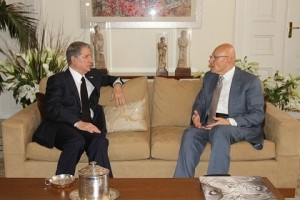 Former Lebanese president and current Phalange Party leader Amin Gemayel expressed on Tuesday his party's commitment to cooperate with Prime Minister-designate Tammam Salam to help him succeed in his mission to form a new government.
After talks with the PM-designate at his residence he said it is in everyone's interest to help Salam for the sake of Lebanon :
"All sides are obligated to cooperate with him for the sake of the nation,"
On Saturday, Tammam Salam became Lebanon's PM-designate after receiving 124 votes in the two-day parliamentary consultations.
He revealed that the Phalange bloc will meet with Salam on Tuesday afternoon in order to present to him its vision of the new government.
The Phalange Party's politburo called on Monday for the formation of a "rescue cabinet" that can deal with regional and international developments.
It should safeguard the country by adhering to the Baabda Declaration that calls for Lebanon to disassociate itself from regional developments, most notably the Syrian crisis.
After meeting with Gemayel Salam headed for a meeting with caretaker PM Nagib Mikati to kick off the consultations for forming the cabinet, according to lBC.
Salam announced last Sunday that the new government will be known as the "National Interest Cabinet", adding that he seeks to form a council of ministers whose members are not nominated for the parliamentary elections.