Putin : Arms shipments to Syria should stop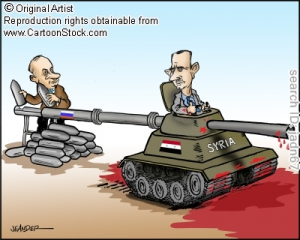 It is necessary that arms imports to all sides in the Syrian conflict are halted, Russia's President Vladimir Putin said in Hannover , Germany, adding that Russia is ready to discuss this.
"As for Syria we don't have a solution yet. What do I think should be done? Halt arms import to the country, but to all sides of the conflict," he said at the annual industrial fair in Hannover.
Responding to a question about Russia supplying weapons to Syria, Putin said, "We supply the legitimate regime. This is not prohibited by international law."
"There are international legal norms stating that it is unacceptable to supply arms to the armed groups that strive to destabilize the situation in a certain country with the use of arms," Putin said, describing the situation in Syria as "a disaster" and "a catastrophe."
"This has to stop," he concluded.
Some 70,000 people have been killed over the past two years in a revolt that started with peaceful protests but descended into a civil war after Assad's forces shot and arrested thousands of opposition members.