Former UK Prime Minister Margaret Thatcher has died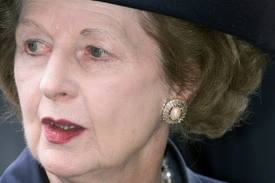 Baroness Thatcher has died at the age of 87 after suffering a stroke, her spokesman Lord Bell has announced.
Lord Bell said: "It is with great sadness that Mark and Carol Thatcher announced that their mother Baroness Thatcher died peacefully following a stroke this morning.
"A further statement will be made later."
Baroness Thatcher, Britain's first and only woman prime minister, had become increasingly frail and was suffering ill health in recent years.
She was admitted to hospital shortly before Christmas where she underwent an operation to remove a growth from her bladder but was allowed to return home before new year.
The Prime Minister, David Cameron, paid tribute saying: "It was with great sadness that I learned of Lady Thatcher's death. We've lost a great leader, a great Prime Minister and a great Briton."
A statement from Buckingham Palace said: "The Queen was sad to hear the news of the death of Baroness Thatcher. Her Majesty will be sending a private message of sympathy to the family."
Baroness Thatcher, who was prime minister between 1979 and 1990, has been credited with transforming a nation in one decade, putting Britain back among the leading industrial nations of the world.
Sky News